Two gay men escaped torture in Chechnya. Russian police are sending them back.
Author: Juwan J. Holmes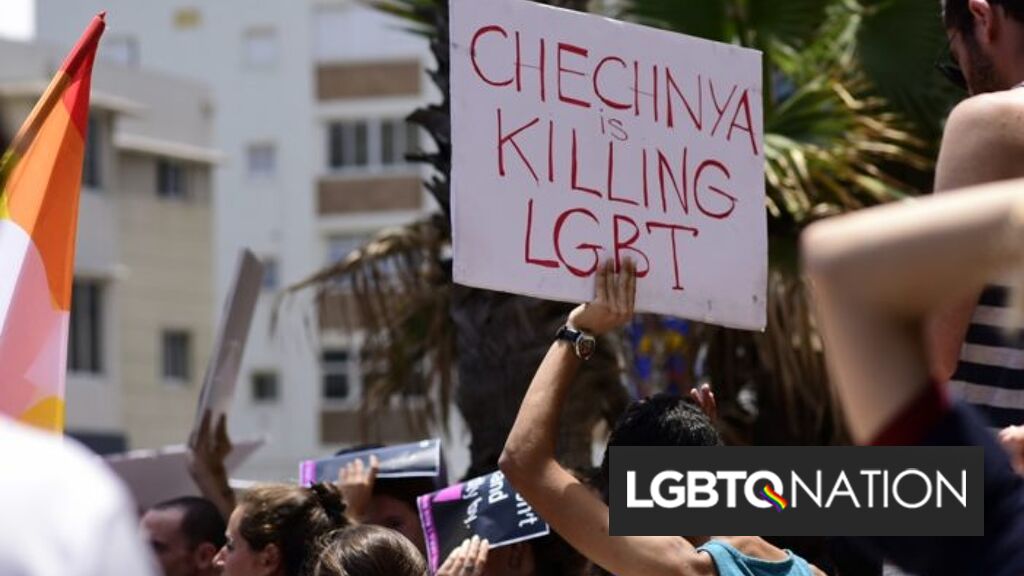 Two young gay men who escaped from Chechnya were caught by Russian police and returned to Chechen police even though they were tortured there in the past, the Russia LGBT Network alleges.
On February 3, the men made a distressed emergency call to the network with screams heard in the background. An attorney with the group found the men missing and "traces of a debacle" in their safe home that afternoon.
Related: Will mainstream media finally start talking about the genocide of LGBTQ people in Chechnya?
Salekh Magamadov and Ismail Isayev — the latter of whom is reportedly 17 — had escaped the Chechen police in April 2020. They were detained because they were moderators Telegram channel Osal Nakh 95, which opposes the government. Telegram is an instant messaging app.
During their detainment, both were among nine teens who were allegedly forced to issue "apology videos." Another man apologized for saying "unscrupulous things about religion and about the authorities" on the cloud-based app.
"I thought that it was impossible to identify an author of posts on Telegram," he said.
Following their escape, the Russia LGBT Network had assisted them in settling in a town nearly 250 miles from Moscow by June.
Nearly eight months later, Magamadov and Isayev were found and taken in less than an hour. Neighbors reported seeing people dressed in black attire.
When Alexander Nemov, an attorney working with the Russia LGBT Network, tried to report the men missing, he learned that they had been detained by police. Yet no Russian police force would confirm they had Magamadov or Isayev.
‼️ Saleh Magamadov and Ismail Isayev were detained by the police in their apartment.
Russian LGBT Network helped Saleh and Ismail leave Chechnya and move to Nizhny Novgorod. Now they are being taken by car back to Chechnya.
Read on ➡ https://t.co/v3Bb1SFnPt pic.twitter.com/g8YS4UNxLS

— Russian LGBT Network (@rulgbtnet) February 4, 2021
Purges of LGBTQ people have repeatedly taken place in the last four years, leading to international condemnation and outcries by human rights advocates.
Chechnya's anti-LGBTQ crackdown has occurred in four waves: The first lasted from December 2016 to February 2017, the second from March 2017 until May 2017, the third began June 2017 and the fourth in December 2018.
At least 27 people are believed to have died in the waves, altogether. The Russia LGBT Network has helped hundreds of LGBTQ men escape the purge and flee to Moscow, Canada Lithuania, France, and Germany.
Women have been caught in the crackdown too, though they're often left to their families be abused, imprisoned or killed. Chechen authorities subscribe to the Stalinist idea of "shared responsibility," blaming families for raising "public enemies" and punishing them if they don't help persecute and murder relatives in so-called "honor killings."
Families can also be imprisoned, harassed, jailed, blackmailed or killed if their suspected LGBTQ family members flee the region.
The Moscow Times reports that Head of the Chechen Republic, Ramzan Kadyrov, "denies the reports as well the existence of LGBT people altogether in the predominantly Muslim region of Russia's North Caucasus."
The U.S. State Department formally sanctioned Kadyrov last July, and the Treasury Department did so again in December. In 2017, then-former Vice President Joe Biden criticized and condemned the Chechnen leadership.
"I am disgusted and appalled by reports from both the Russian media and non-governmental organizations that authorities in the Russian republic of Chechnya have rounded up, tortured, and even murdered individuals who are believed to be gay," Biden stated. "When faced with such crimes of hate and inhumanity, it is the responsibility of every person of conscience to speak out — to oppose this campaign of violence before it continues further."
He concluded, "the United States must lead the way to demand an end to these egregious violations of human rights."
Soon after, Kadyrov was banned from entering the United States, and the country's known assets in the country were seized by the Treasury Department.
Actual Story on LGBTQ Nation
Author: Juwan J. Holmes