Trans Netflix employees file grievance accusing company of retaliating against them
Author: Juwan J. Holmes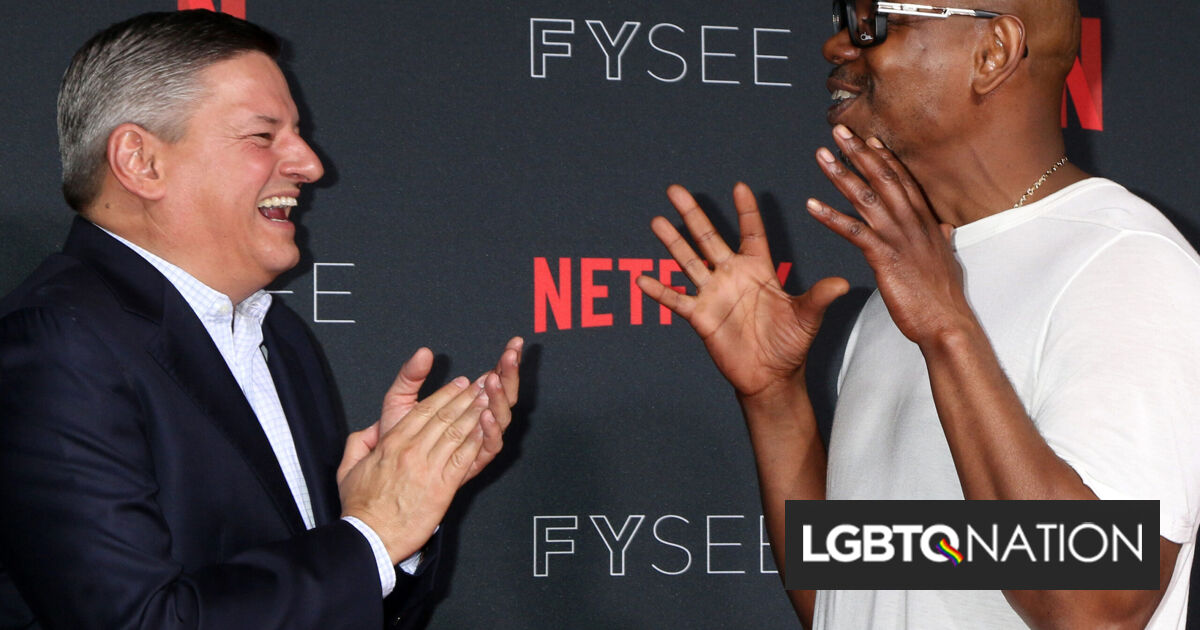 B. Pagels-Minor and Terra Field, two trans employees at streaming giant Netflix, have filed a complaint with the National Labor Relations Board (NLRB) over their treatment following the release of the Dave Chappelle comedy special The Closer, and their subsequent criticism of it.
The October 27 complaint accuses the company of taking actions "to quell employees from speaking up about working conditions including, but not limited to, seeking to create a safe and affirming work environment for Netflix employees, speaking up about Netflix's products and the impact of its product choices on the LGBTQ+ community, and providing support for employees whom Netflix has treated in an unlawful and disparate manner."
Related: Councilman defends wearing blackface by comparing it to Dave Chappelle's comedy
Pagels-Minor, who is currently 35 weeks pregnant, was a program manager at the company, until they were fired earlier this month. They organized the Netflix Walkout protest held just 10 days ago, but the company claimed they fired them just days before the protest because they shared "confidential, commercially sensitive information outside the company," which Pagels-Minor denies.
Terra Field, a senior engineer, wrote a viral thread on Twitter following the release of The Closer denouncing how Chappelle characterized the trans community as "offended." She was suspended by the company, who justified the suspension by claiming that Field and two other employees had attempted to attend a meeting held by board directors at the company that she was not supposed to attend. Netflix subsequently reversed the suspension when they admitted that a director had invited Field to the meeting prior.
The complaint not only names these actions, but comments made by co-CEO Ted Sarandos' publicly and in internal memos defending the decision to broadcast The Closer, where in part he said that Chappelle was too popular to drop from the platform.
"While some employees disagree, we have a strong belief that content on screen doesn't directly translate to real-world harm," Sarandos claimed in one memo to Netflix employees.
"This charge is not just about B. and Terra, and it's not about Dave. It's about trying to change the culture and having an impact for others. The charge is all about collective action. It's about supporting your coworkers and speaking up for things you care about," attorney Laurie Burgess said in a statement to the Verge.
Rights exist to be exercised and defended, and nobody will silence me in my defense of myself, my coworkers, or my community. https://t.co/kTMWUaILRL

— Terra Field (@RainofTerra) October 29, 2021
Pagels-Minor also said that they hope "to move the conversation forward about employee rights which is something that helps everyone."
Netflix said in a statement, "We recognize the hurt and pain caused to our trans colleagues over the last few weeks. But we want to make clear that Netflix has not taken any action against employees for either speaking up or walking out."
Since the release of The Closer, Chappelle's latest comedy stand-up, Netflix has been embroiled in a PR fiasco attempting to spin the decision to present Chappelle's anti-trans remarks.
Members of Netflix's employee resource group for trans and nonbinary employees — which Pagels-Minor led and Field serves on as VP — issued a list of demands to Netflix leadership. The list included developing a fund specifically aimed at funding and boosting trans and non-binary talent and content. They asked that the fund match the over $24.1 million that the company invested in Chappelle's special and other transphobic content.
The demands also asked for revised internal processes for handling potentially transphobic content, an increase in trans and non-binary senior leadership in Netflix, allowing trans and non-binary employees to remove themselves from past videos and marketing materials related to the company's LGBTQ diversity as well as an acknowledgment of the harm Netflix has caused with its transphobic content and the inclusion of disclaimers before such content, warning viewers of their anti-LGBTQ views.
Hundreds joined the Netflix Walkout on October 20 in support of trans rights and representation. GLAAD, the National Black Justice Coalition, several celebrities, and Netflix talent supported the protest, with some even attending.
Chappelle has claimed that "It seems like I'm the only one who can't go to the office," suggesting he's the one not being protected at Netflix. Counter-protestors who identified as "free-speech" advocates and trans-exclusionary radical feminists (TERFs, a term Chappelle describes himself as) attended the Netflix Walkout as well, leading to minor conflicts throughout.
Meanwhile, Chappelle has the likes of Caitlyn Jenner and Channing Tatum on his side as well.
In addition to declaring himself a TERF, Chappelle misrepresented author J.K. Rowling's transphobic views in his special, then launched into a derogatory diatribe about transgender women's genitals, and told a story about Daphne Dorman, his supportive trans friend who killed herself after online critics slammed her approval of Chappelle's anti-trans humor. He implied that other transgender Twitter users bullied Dorfman into suicide.
He also boasted about beating "the shit out of" a butch lesbian who he claimed punched him, and expressed jealousy about how, in his view, LGBTQ people have achieved greater equality than Black Americans, while denying that anti-LGBTQ hate crimes still occur regularly.
"In our country, you can shoot and kill a [n-word]," Chappelle said in the stand-up special, "But you better not hurt a gay person's feelings."
Actual Story on LGBTQ Nation
Author: Juwan J. Holmes