This video shows stark difference between drag queens who read to kids & those who protest them
Author: Molly Sprayregen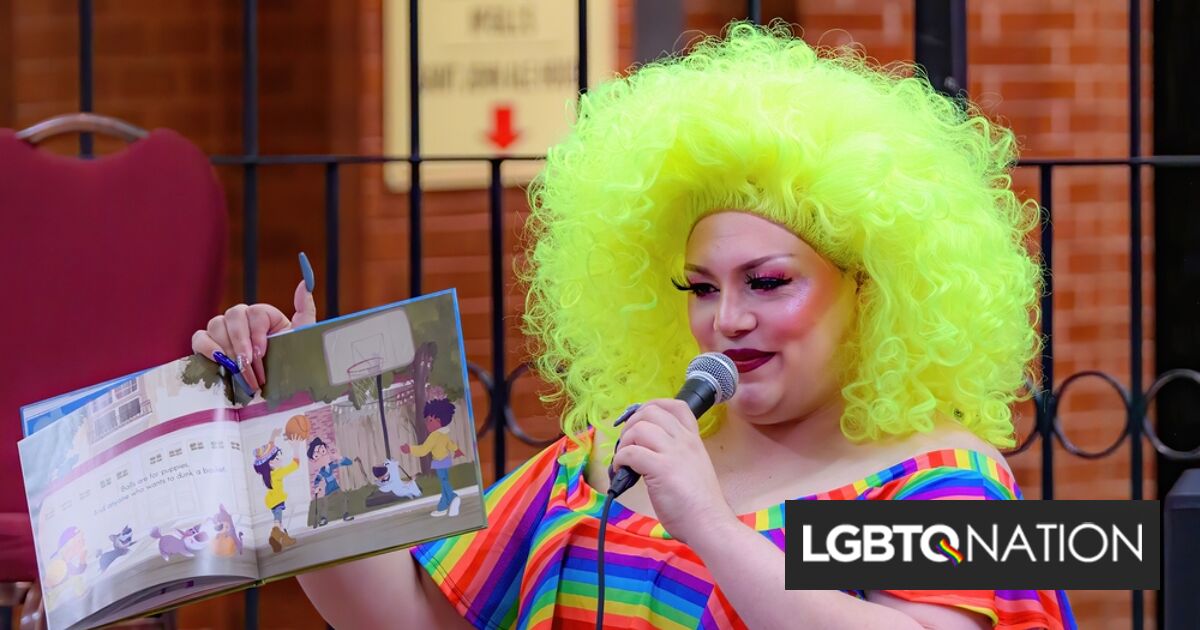 Out New York City Council member Erik Bottcher (D) is calling out the discrepancy between hateful anti-drag protestors and the kindness being preached during drag queen story hours.
Bottcher posted a video of a recent Drag Story Hour event in Manhattan hosted by New York Attorney General Letitia James spliced with clips of the anti-LGBTQ+ protestors ranting outside the venue.
"God only knows what you're reading to them!" yells a man holding a "Gays for Trump" flag in the opening of the video. "What kind of sexually explicit material are you reading to them, Erik! Are they twerking? Are the drag queens twerking in front of them?"
The video then cuts to a scene from inside, where a drag queen is reading from a children's book called Love the World by Todd Parr.
"Love yourself, love the world," she states as the children and their parents repeat the lines back.
She then reads, "You can always find something to love about yourself, the world, and everyone in it."
Then it cuts back outside, where protestors yell, "You're a crackhead b*tch"; "Get the hell out of here!" ; and "Gross!"
One protestor then reminisces about the days when "pedophiles had white vans that said free candy on the side."
"I don't remember them doing this sh*t," he says.
We then see the drag queen reading again, declaring, "Love yourself and love the world."
"Observe the contrast between the vicious hate outside today's Drag Story Hour, and the love and positivity inside. Awful that the families were exposed to it on their way in," Bottcher tweeted.
At the event, the anti-LGBTQ+ protestors, some wearing Proud Boys colors, clashed with counter-protesters. One man was arrested while another's face appeared to have been bloodied.
According to the New York Post, some 40 protesters and more than 100 supporters gathered outside New York City's Lesbian, Gay, Bisexual & Transgender Community Center (commonly referred to as The Center), where James was hosting the event co-sponsored by non-profit Drag Story Hour NYC.
Video of the clash posted to Twitter on Sunday shows one anti-LGBTQ+ protester in a gold mask being arrested. Rolling Stone reports that 53-year-old Robert Porco was charged with one count of assault.
Another clip shows a man in a Proud Boys sweatshirt being escorted away from the scene by NYPD officers as counter-protesters shout "Go home" and "Proud Boys not welcome in New York." He's joined by another man who says he is an EMT and appears to have blood on his face.
Following the event, AG James's office released a statement saying that part of the point of the Drag Story Hour at The Center was to "condemn hate and combat rampant disinformation."
"The recent rise in anti-LGBTQ+ protests, rhetoric, and policies has left New Yorkers — myself included — devastated and disappointed," she said. "But I know better than anyone that when the choice is between love and hate, between joy and venom, New Yorkers will always choose love, and New Yorkers will always choose joy."
Outside The Center, Bottcher told reporters, "We are overwhelming their hate, with our love, support and positivity."
Actual Story on LGBTQ Nation
Author: Molly Sprayregen