The Week in Trans Rights: Alabama bill moves forward while Idaho bill is killed
Author: Erin Rook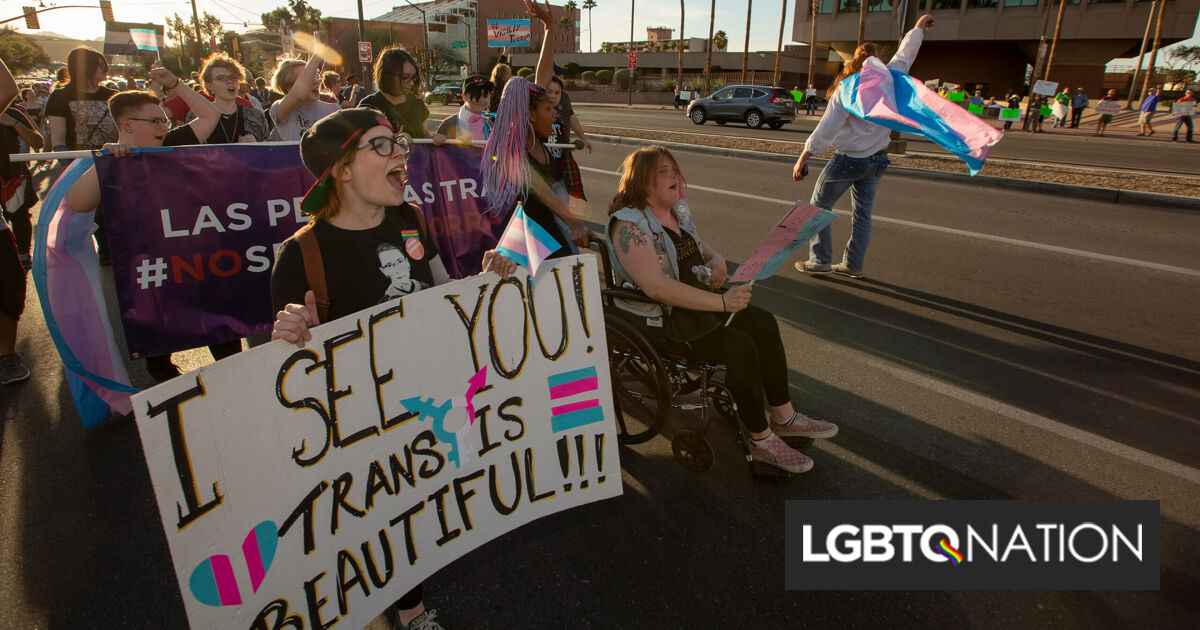 This week, state governments continued their assault on the rights of transgender people.
Many eyes are on Alabama, where House lawmakers are preparing to take up "catastrophic" anti-transgender legislation. But it's not all bad news. Read on to learn more about an unexpected victory in Idaho and a first-of-its kind case in Maine.
Related: Texas attorney general lobs ugly insult at transgender admiral
Alabama
The Alabama House of Representatives is soon expected to take up a bill that would make gender-affirming care for minors a felony and would require teachers to out transgender students to their parents.
The Alabama Vulnerable Child Compassion and Protection Act (V-CAP) has already passed the Alabama Senate by wide margins, and Gov. Kay Ivey (R) has indicated she will sign it into law. If passed, it will outlaw gender-affirming care for minors.
It would also require both public and private school staff to out transgender students to their parents, saying school staff may not "encourage or coerce a minor to withhold from the minor's parent or legal guardian the fact that the minor's perception of his or her gender or sex is inconsistent with the minor's sex" and also cannot "withhold from a minor's parent or legal guardian information related to a minor's perception that his or her gender or sex is inconsistent with his or her sex."
The bill comes with legal penalties for those who would dare violate it to support transgender youth. Anyone convicted under the law could be sentenced to 10 years in prison or given a $15,000 fine.
Missouri
In Missouri, where lawmakers are busy trying to keep trans girls out of women's sports, one Republican senator made it extra creepy when she asked a transgender girl about her genitals.
Sen. Elaine Gannon was caught on camera asking 14-year-old trans girl Avery Jackson about what's in her gym shorts during a Senate Education Committee hearing on the "Save Women's Sports Act."
During Jackson's testimony, Gannon asked: "Are you gonna go through the procedure?"
Jackson replied, "You think we're going around forcing our genitalia in people's face? We're trying to use the bathroom. And what you want to do is not let people do that."
Arizona
This week, the Arizona House of Representatives held an ad hoc committee hearing on LGBTQ-inclusive nondiscrimination protections for the first time.
According to Equality Arizona, HB 2802 would extend Arizona's existing non-discrimination protections to LGBTQ Arizonans in employment, housing, and public accommodations. It would also ban so-called "conversion therapy."
The move comes as Arizona lawmakers consider multiple anti-LGBTQ bills.
Idaho
Idaho Republicans actually followed their principles this week. Senate Republicans killed a bill that would have made medical care for trans youth a felony, citing the "parental rights" rhetoric typically used to justify anti-LGBTQ legislation.
In a statement, the Idaho Senate Majority Caucus acknowledged that it "strongly opposes any and all gender reassignment and surgical manipulation of the natural sex of minors" but argued that the bill  "undermines parental rights and allows the government to interfere in parents' medical decision-making authority for their children."
Maine
In Maine, a transgender woman is getting justice after being rejected by a nursing home in violation of the state's nondiscrimination laws.
The Maine Human Rights Commission affirmed 79-year-old Marie King's complaint of discrimination against a long-term care facility, allowing her case to move forward. It is believed to be the first time a transgender elder has filed a discrimination complaint against this type of facility.
Actual Story on LGBTQ Nation
Author: Erin Rook