Tennessee passes bill requiring anti-trans signs on businesses with trans-inclusive restrooms
Author: Juwan J. Holmes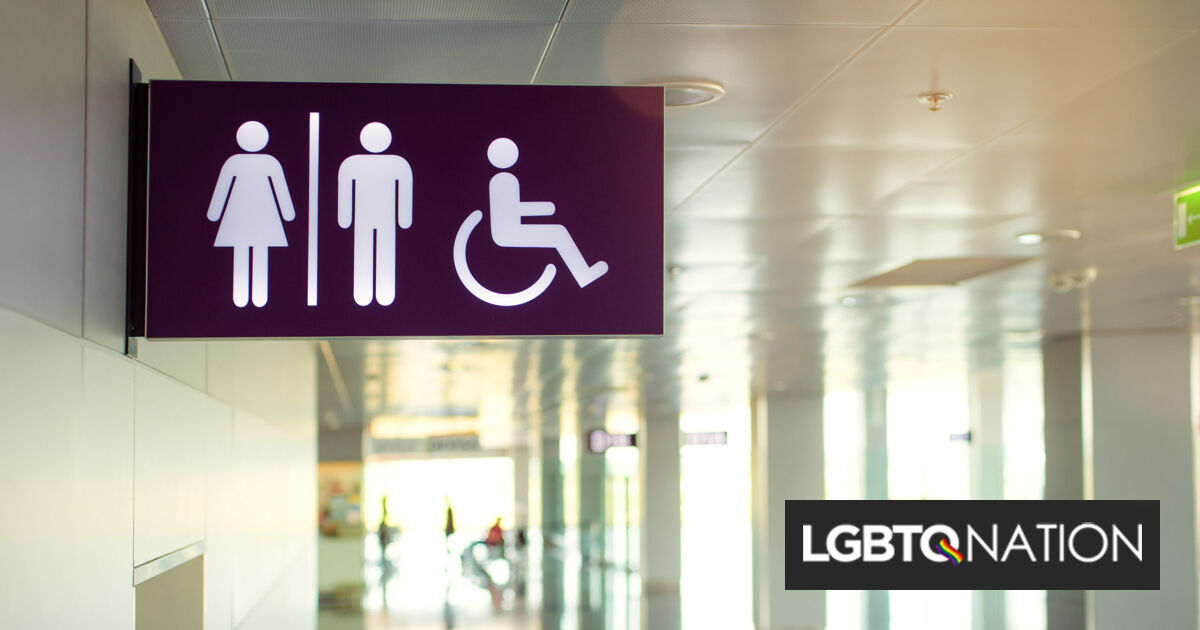 Both chambers of the Tennessee Legislature have passed a bill that would require businesses to post notices that say they allow transgender people to use the building's restrooms.
If signed, it would make the Volunteer State the first state in the country to adopt legislation seeking to single out trans-affirming businesses for allowing trans people to use bathrooms that align with their gender identity.
Related: CEO fired for harassing gay teens after Kathy Griffin blasts him online

Tennessee's House Bill 1182 would require signs at the entrances to the building and the door of every restroom that isn't single stalled.
The signs would be required to state "this facility maintains a policy of allowing the use of restrooms by either biological sex, regardless of the designation on the restroom."
"A public or private entity or business that operates a building or facility open to the general public and that, as a matter of formal or informal policy, allows a member of either biological sex to use any public restroom within the building or facility shall post notice of the policy at the entrance of each public restroom and at each entrance of the building accessible by the general public," H.B. 1182 reads.
The bill's sponsor, state Rep. Tim Rudd (R), said that it isn't aimed at transgender people since it doesn't ban them from using the restroom altogether.
Instead, he says it's aimed at "the protection of women and children against sexual predators that could be taking advantage of policies, executive orders or legislation that may allow the opposite sex to enter a restroom, shower or locker that allows more than one person in the facility at a time."
The bill passed the state House on March 30. The state senate passed in on April 29, and it now goes to Gov. Bill Lee (R)'s desk.
Zero Democrat senators and only one House Democrat voted in favor of the bill, Rep. John Mark Windle (D). Only one House Republican, Rep. Kent Calfee (R), voted against it, and zero Republicans in the senate. Otherwise, the vote for the proposal went down party lines in both chambers.
"House Bill 1182 is a discriminatory piece of legislation crafted to generate the maximum amount of harm to Tennessee's transgender community," said Alphonso David, the President of the Human Rights Campaign, in a statement. "Denying transgender people the ability to access a bathroom consistent with their gender identity is degrading and dehumanizing, and by advancing this bill, the Tennessee state legislature is putting the health and safety of transgender Tennesseans at risk."
David and other advocates are calling for Lee to veto the bill.
"These 'Slate of Hate' bills are nothing more than a politically motivated attack on the LGBTQ community, especially transgender people," said David.
H.B. 1182 is the latest in a deluge of anti-trans legislation from the Tennessee Capitol. This is also despite Jennifer Pritzker, the world's first out trans billionaire, and several corporations — including three dozen of the largest players in the music industry, which drives business in the state — all taking a stand against the anti-trans proposals.
Still, the state has become one of the nation's hotspots for draconian and vindictive anti-transgender legislation. Tennessee Republicans have been trying to pass them since at least 2012.
A different Republican lawmaker has introduced a bill this year that would allow cisgender students to sue the school if they're not given a "reasonable accommodation" if they don't want to share facilities with trans people.
State Rep. Jason Zachary (R) introduced H.B. 1233, which would create a complicated system for addressing bathrooms, locker rooms, and other facilities used at public schools in order to give administrators "a clear path forward."
Another bill that passed the legislature bans books that mention LGBTQ people from public schools. Another would make the Bible the official state book.
So far this year, the state has passed bills that would allow adoption agencies to discriminate against LGBTQ parents and bans transgender youth from playing school sports.
House Bill 529, which is also Senate Bill 1229, is also currently on the governor's desk, and he has until May 3 to take action on the bill or allow it to become law. The bill requires schools to notify parents if sexual orientation or gender identity are going to be mentioned in class 30 days in advance, and gives parents the ability to opt their children out so that they don't have to hear that LGBTQ people exist.
"As a parent, I find out when my child comes home what video they saw that day, not 30 days before so I can protect my own child from that," Rep. Ryan Williams (R) said. "Our kids are young and impressionable, and what we allow in their minds is important."
The bill allows teachers to mention the sexual orientation or gender identity of a historical figure if it provides "necessary context," a phrase opponents of the bill said is vague.
"How do you try to make people afraid of a certain population? Well, talk about how scary they are in school or refuse to acknowledge that they exist in school," said Cathryn Oakley of the Human Rights Campaign. "It hurts everybody when LGBTQ people are excluded from those discussions."
Tennessee so far has 6 anti-trans bills that could become law, with another already legalized.

🆘 HB3 Anti-Trans Sports Bill (signed by @GovBillLee)
🆘 HB 1182 (passed by Tennessee House)

*Pending
🆘 HB 1233
🆘 HB 578
🆘 HB 529
🆘 HB 800
🆘 HB 372https://t.co/ZnGsP71BAd

— Serena Sonoma (@SerenaSonoma) April 30, 2021
BREAKING: A Tennessee bill that would shame businesses that allow trans people to use restrooms in alignment with their gender has been sent to the governor's desk, according to @HRC.

Businesses would be forced to hang signs warning customers about their trans-inclusive policy. pic.twitter.com/fRiXT68KgB

— Verbally Incontinent Spinster (@Nico_Lang) April 29, 2021
Actual Story on LGBTQ Nation
Author: Juwan J. Holmes