Soccer player Quinn becomes the first trans athlete to compete at the Olympics
Author: Juwan J. Holmes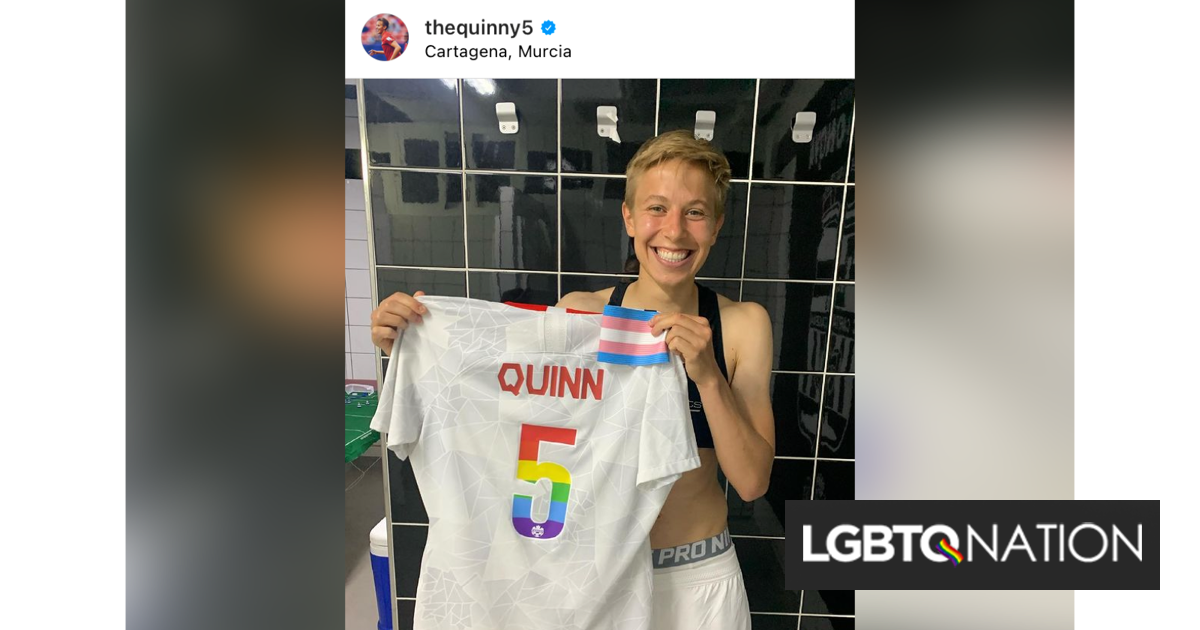 While Laurel Hubbard became the first transgender athlete to qualify for the Olympics, the events she's competing in — weightlifting, in the super-heavyweight 87+kg category — don't begin until August 2. But there are other trans athletes competing in Tokyo, and the first has already taken the field.
Quinn, a soccer star for the Canadian women's national team, came out as transgender in September. This week, they became the first openly trans athlete to participate in an Olympic competition.
Related: Viral claim that the Olympics provided athletes with "anti-sex beds" is quickly debunked

Quinn now uses they/them pronouns and only goes by the mononym Quinn. They have played for their country since 2013, and they earned a bronze medal with the team at the 2016 Olympics.
At this Olympics, they started in the Canadian's team first game on July 21 against the host nation, Japan. The result was a 1-1 tie. Quinn played for 72 minutes in the match.
Acknowledging their history making moment, Quinn said in a post on Instagram that they "don't know how to feel."
Quinn said they "I feel proud seeing 'Quinn' up on the lineup and on my accreditation," but they "feel sad knowing there were Olympians before me unable to live their truth because of the world.
Still, "I feel optimistic for change," they said.
"Change in legislature. Changes in rules, structures, and mindsets. Mostly, I feel aware of the realities. Trans girls being banned from sports. Trans women facing discrimination and bias while trying to pursue their Olympic dreams. The fight isn't close to over… and I'll celebrate when we're all here."
Quinn also played as a substitute in Canada's second game of the Olympics, which was a win against Chile, 2-1 on July 25 (Japan is across the International Date Line).
The team's next game is against the United Kingdom tomorrow on July 27 (it is currently July 26 in Japan.) Canada is already likely to advance from the initial round of group play following their tie and subsequent win, so there will be more opportunities to see the first trans athlete competing at the Olympics.
Quinn also plays in the National Women's Soccer League (NWSL), currently for the OL Reign in Seattle, making them a teammate of out American soccer star Megan Rapinoe.
Quinn's coming out inspired international soccer player Kumi Yokoyama to come out as a trans man last month. Yokoyama, played for Japan's national women's soccer team from 2015 to 2019, but was not named to Japan's Olympics roster. He currently plays for the NWSL's Washington Spirit.
In addition to Hubbard, already confirmed to participate after anti-trans activists lobbied the Olympics to remove her, there is one other openly trans athlete in Tokyo — Chelsea Wolfe. She is an inaugural member of the United States' BMX freestyle team, but as a reserve athlete, meaning she will only compete if one of the other two selected women is sidelined for some reason.
This will be the first time that BMX freestyling is being staged at the Olympics.
Several other trans athletes attempted to qualify for a trip to the Olympics, including American athletes CeCe Telfar, Chris Mosier, and Nikki Hiltz, but did not qualify or were unable to for one reason or another.
The International Olympic Committee (IOC) set guidelines in 2003 that have made it possible for trans athletes to participate in Olympic events since 2004. Their initial guidelines were stringent, requiring gender-affirming surgery, legal recognition, and years of hormone therapy to compete as their gender. These rules also made it virtually impossible for intersex athletes to qualify.
The IOC relaxed the guidelines in 2015, recognizing that trans people in a majority of the world still have limited rights, or access to, legal recognition or gender-affirming care. New rules allow trans men to participate in Olympic events "without restriction" and trans women to commit to competing as their gender for four years as well as maintain a low testosterone level.
Despite this, there had yet to be an out trans athlete on any Olympic team, or to actually compete — until now.
Actual Story on LGBTQ Nation
Author: Juwan J. Holmes