School district's lawyer argues "male-on-male incidents" shouldn't be considered sexual assault
Author: Juwan J. Holmes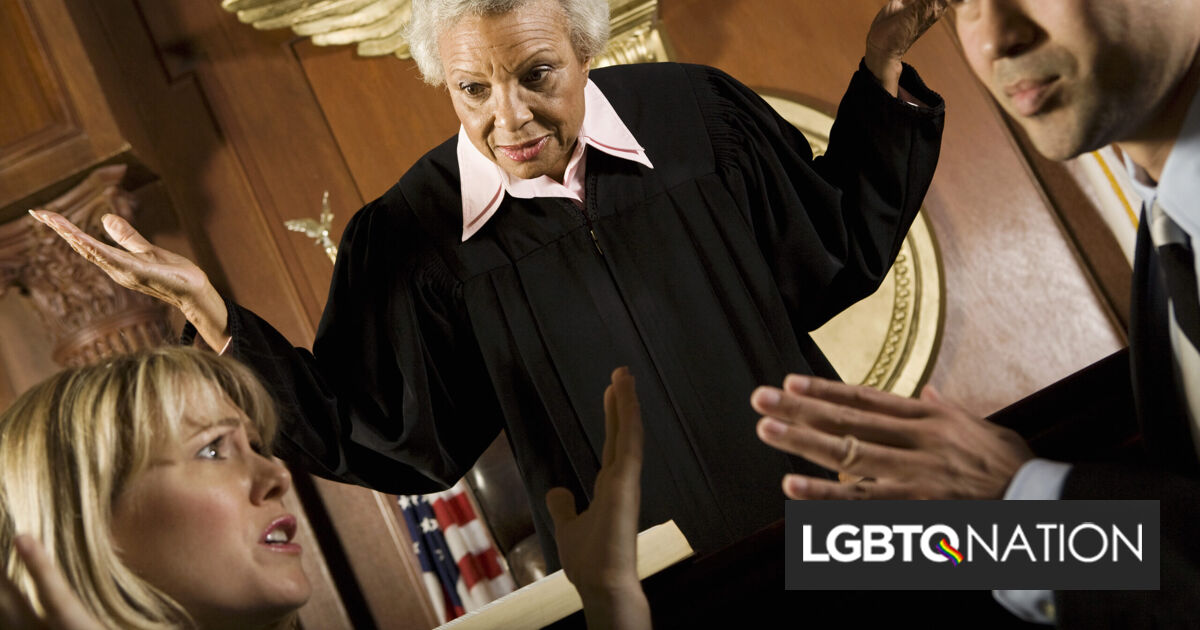 Attorneys for a high school in Maryland argued in court that the school shouldn't be liable for any alleged sexual harassment or rapes that took place in their school because there couldn't have been any sexual gratification involved in the "male-on-male incidents."
Defending the school against allegations that it knowingly left students unsupervised in the school's locker room, leading to several alleged sexual assaults with broomsticks, an attorney argued before a federal court, "There is no indication that this was motivated by sexual desire," because "they weren't yelling sexual slurs about, maybe homosexuality, or things like that."
Related: Teens receives short prison sentence after conviction for "heinous" anti-gay assault

The civil litigation stems from ongoing criminal charges against several students for participating in a "hazing" ritual that allegedly ended with students being raped with a broomstick at Damascus High School.
Damascus High School is a part of the Montgomery County Public School in Damascus, Maryland. It currently serves about 1,200 students, is the alma mater of NFL player Jake Funk and CNN media reporter Brian Stetler, and also the site of several alleged sexual assaults between students on the school's football team.
According to the Washington Post, the victims' families allege that the school and its administrators knew that sexual assaults had happened in Damascus High School's locker rooms, and in neighboring schools, but still chose to leave them unsupervised.
One of the alleged perpetrators of one of the rapes had sexually harassed and physically attacked other students, but the school still took no action to protect its students in their own facility.
Families of the victims from the alleged incidents accused the school district of failing to follow Title IX guidelines in their lawsuit. The litigation is in federal court before Senior Judge Peter J. Messitte on the United States District Court of Maryland.
Title IX has specific guidelines that schools and Department of Education-funded programs are to follow when dealing with allegations or suspicions of sexual assault or harassment.
In a motion heard before the court on July 1, the attorneys representing Damascus and Montgomery County argued that any alleged rape by broomstick would be "non-sexual" in nature, and thus didn't qualify as an act that would constitute following Title IX guidelines.
Sean O'Hara, one of the attorneys for the school district, argued before the court that because the intent of the alleged rapes "was to scare, intimidate, and control," as the victims' families have also argued, that it does not constitute as a sexual act.
"This is a male-on-male incident," O'Hara said, and thus, it didn't constitute as a sexual assault, according to the Post's reading of the otherwise-sealed court proceedings, shared with permission by Judge Messitte himself.
Judge Messitte responded, "I don't buy that argument at all. As a matter of law, I'm not prepared to say that this is not sexual."
"I think that argument is deplorable. This was rape and rape is always sexual assault and rape always implicates Title IX," Timothy Maloney, an attorney for the plaintiffs, said in rebuttal.
Judge Messitte shot down the argument from the school and their administrators.
The Post reported that the argument incensed the families of the victims, and one father that spoke on condition of anonymity to protect their child's identity said, "For the county attorney to even begin to suggest that this attack had nothing to do with a sex-related crime is outrageous."
The alleged rapes took place on Halloween in 2018. Damascus High School's junior varsity football team were practicing for the last time when they commenced with a "hazing" exercise, as they reportedly thought of it as.
The teens turned off the lights and stood in the way of the exits. The four perpetrators attacked different students, pinned them down, stomped them, and inserted the broomsticks repeatedly into their rectums, even ripping through their underwear in at least one victim's case.
The "hazing" went on for about 25 minutes while the students were unsupervised.
When the incidents were reported to school officials, they waited until the day after the initial reports before notifying the police. Four alleged perpetrators, all 15 years-old, were tried as juveniles, but were originally charged as adults, following a criminal investigation. At least two are believed to have taken plea agreements accepting guilt on charges of second-degree rape.
At least one of the perpetrating students told investigators, "At the time I did not feel it was sexual abuse, but now I know it is."
The Montgomery County Public Schools distanced themselves from their attorney's arguments in court, claiming they don't reflect how the district actually defines sexual assault or rape.
"Claims of sexual harassment or assault are taken seriously and processed pursuant to BOE policies, which do not contain any reference to 'sexual desire,'" Gboyinde Onijala, the school district's spokesperson, said.
The Post reports that Montgomery County is not the first entity to use a defense like this, but similar attempts to claim "hazing" activities weren't covered under federal Title IX laws failed in Arizona and Tennessee.
Further, there were allegedly at least seven known incidents of "locker room sexual violence" within the Montgomery County Public Schools system prior to the 2018 event. Five of them were alleged to have happened at Damascus High School.
"Nothing happened, No remedial action, complete indifference." Maloney, the attorney representing the families, told the court.
O'Hara claimed that the Maloney had written the families' legal filings to "artfully wordsmith" events in the case.
A trial scheduled for 24 days was scheduled to begin on July 26.
Actual Story on LGBTQ Nation
Author: Juwan J. Holmes