Pro football player is accused of leading a gay-bashing that left a man near death
Author: Juwan J. Holmes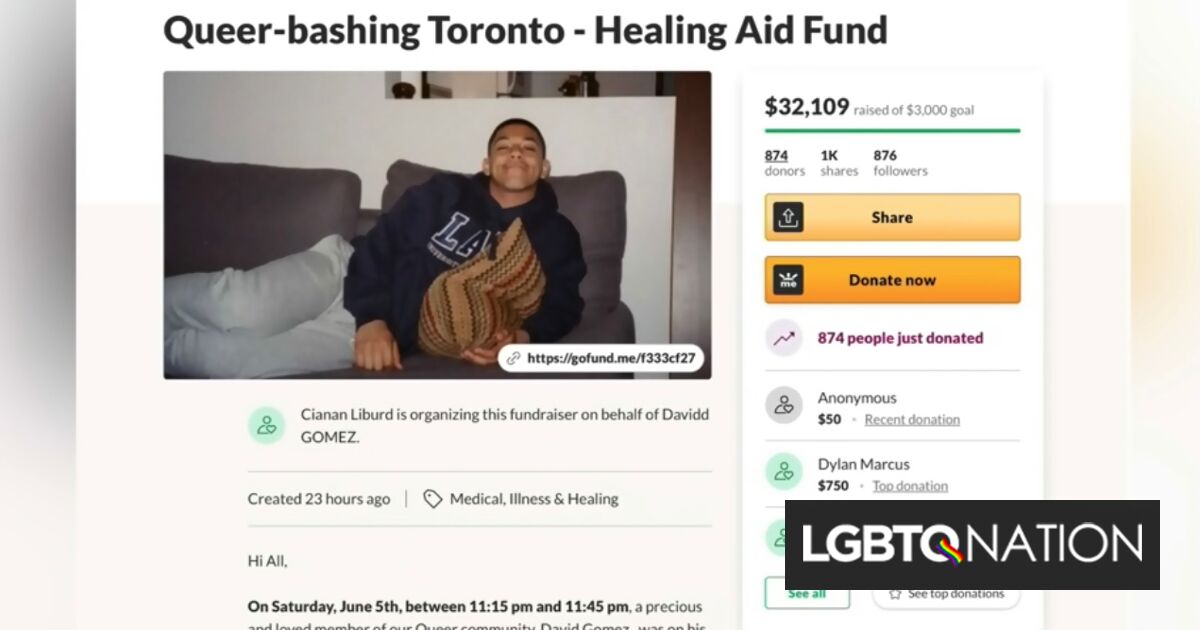 A professional football player has been suspended as he faces allegations of assaulting a gay man outside of Toronto Island and leaving him with severe injuries.
The victim, David Gomez, was beaten "nearly beat to death" while walking home from Hanlan's Point late on June 5. He and a woman he was walking with reportedly got into a dispute with a larger group. They proceeded to attack Gomez while saying homophobic remarks.
Related: Gender reveal party results in wildfire. The family that started it got off with a $500 fine.
Gomez said in a private Facebook post alerting friends that he was "knocked unconscious, and nearly beat to death … I was dragged around, kicked and punched in the face."
A GoFundMe fundraiser for Gomez launched by friends on June 9, read, "David and a friend found themselves in danger when they were outnumbered by a group of folks (approx 5+) shouting and hurling homophobic slurs at them until things reached a boiling point, which compelled the attackers to become violent, leaving David incapacitated and in need of serious medical attention."
A woman in the group grabbed and held Gomez while two men began beating him. Gomez was left with "significant injuries" that left him hospitalized, including a broken nose, cheekbone, orbital bone, hip bone, and also a concussion.
Friends began bringing attention to the assault by way of social media. The GoFundMe notes their belief that "there were apparently bystanders, INCLUDING the police (a minute or so before the conflict took place), who made a shallow attempt at calming tempers."
They note that Hanlan's Point is an "enclave" for the LGBTQ community in Toronto and that this attack happening during Pride Month is "maddening."
Following tips from social media, police focused on Chris Larsen, a defensive lineman for the Ottawa RedBlacks, an American football team in the Canadian Football League (CFL). When police identified Larsen as one of their suspects, the RedBlacks suspended him.
"Diversity and inclusion are central to our organizational values and we will try our best to use our platform to help make acts of hate and violence, including homophobia, stop," RedBlacks owner Mark Goudie stated. "We are particularly sorry for the trauma caused to the 2SLGBTQ+ community."
The CFL also released a statement. "We want to reaffirm our values: We condemn homophobia, violence and hate. We support inclusivity and diversity. More needs to be done and we will continue to stand with the LGBTQ2S+ community," they wrote in a post on social media.
The Toronto Sun reported Larsen as wanted by the Toronto police. Is it not clear if he has been arrested. There are also two other suspects described in police statements, including one man who looks "white, thin build, 5' 6", and possibly had dreadlocks," and a woman who looks "white, 22-28 years old, 5'5", 180 lbs, with long blonde hair."
Larsen was a draft pick by the RedBlacks in 2019 but had not yet appeared on the field for the team. The 2021 CFL season is expected to start in August.
Social media users also found previous anti-gay comments made by Larsen online.
One of Gomez's friends, Cianan Liburd, has reported to CTV News that Gomez needed surgery, but he is okay and recovering now.
Still, the assault and Gomez's "really rough shape" deeply affected Liburd. "It was scary. It was shocking. It made me upset," he said.
"This remains an active investigation and extensive inquiries are being carried out including scouring for video, recovering evidence and speaking to witnesses to establish the motive," Toronto Police said in a statement on June 9.
"The Toronto Police Service understands that incidents of this nature cause concern in LGBTQ2S+ communities. We want to assure everyone that our investigators are working hard to determine if this was a hate crime and identify the suspects involved. Any type of hate crime will not be tolerated."
It is the second notable violent attack that appears to be hate-motivated in Canada in the last week. Earlier this week in the small town of London, Ontario, a man killed four virtual strangers and members of a Muslim family with his vehicle. The only survivor was a nine year-old who is now orphaned.
Toronto Mayor John Tory said he was "disturbed" and finds "the assault of any resident is unacceptable."
"There is absolutely no place for homophobia in our city. It's time to once again say an emphatic 'no' to this hateful violence," Tory added.
At the time of this writing, Gomez's GoFundMe has raised over 48,000 Canadian dollars, equivalent to more than $40,000 U.S. Dollars.
Actual Story on LGBTQ Nation
Author: Juwan J. Holmes