President Biden nominates second out woman to federal appellate court
Author: Juwan J. Holmes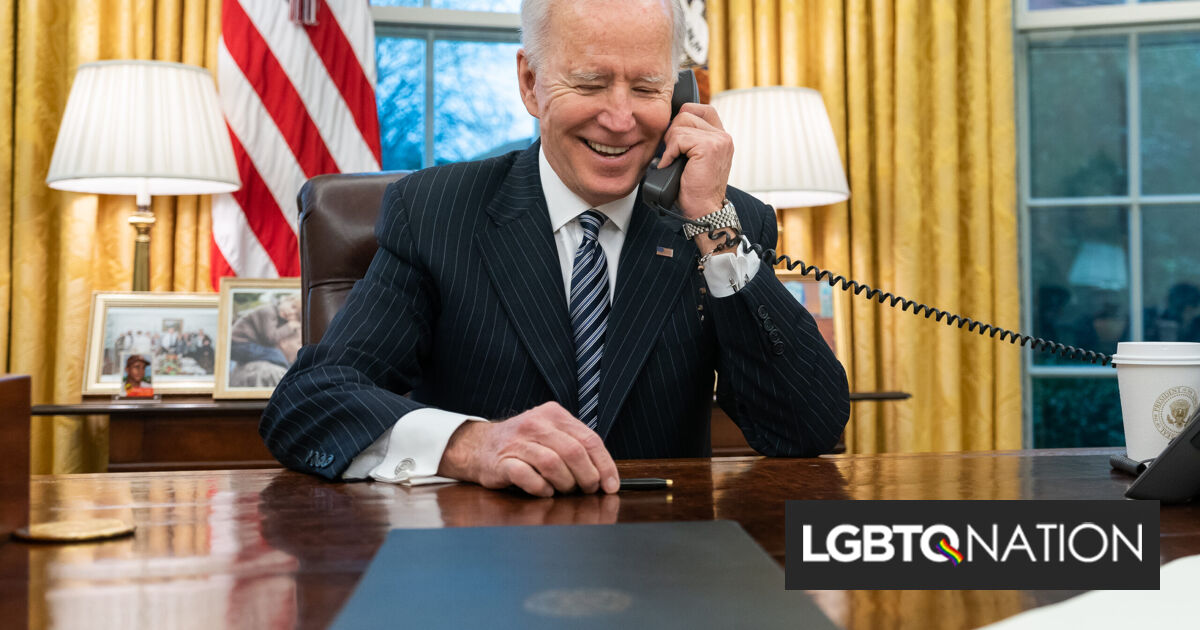 Just weeks after Beth Robinson was confirmed as the first out LGBTQ woman in the country as a judge on a federal appellate court seat, President Joe Biden has nominated a second out woman to also join the same bench.
The White House announced this week that Biden is nominating Alison Nathan, currently a district judge on the U.S. District Court for the Southern District of New York, to a seat on the U.S. Court of Appeals of the Second Circuit. Sen. Chuck Schumer (D-NY) recommended her, as he did when she was nominated to her current judgeship by President Barack Obama (D) in 2011.
Related: Lawsuits filed against Trump fans & Texas cops over "attack" of Biden campaign bus
In addition to currently serving on the District Court, Nathan was previously a Special Assistant to President Obama, Associate White House Counsel, and Special Counsel to the Solicitor General of New York. She has clerked in the Supreme Court and taught at Fordham Law School and NYU Law.
Nathan is currently garnering attention from tabloid and legal media as she is the judge assigned to the prosecution bought against Ghislaine Maxwell, a known associate of late billionaire and accused sex trafficker Jeffrey Epstein. She is currently scheduled to oversee Maxwell's trial, which she set to begin on November 24.
This week, she presided over jury selection, and told the court prior to the nomination that she is continuing her duties for now.
"Needless to say, I'm very honored," Nathan said on Wednesday, but she will "continue to do my day job, which means presiding over this trial until completion and handling the hundreds of other civil and criminal matters on my docket."
Nathan is the partner of NYU Law professor and faculty director Meg Satterthwaite, a former United Nations consultant, and they are parents to twins.
The White House announced her nomination along with Andre B. Mathis, who Biden is nominating to the Sixth Circuit. Mathis would be "the first Black man—and the second Black person—to sit on the Sixth Circuit from Tennessee," and the first Black male judge appointed to the circuit in 24 years.
President Biden considers both to be "extraordinarily qualified, experienced, and devoted to the rule of law and our Constitution."
Out Rep. Ritchie Torres (D-NY) and other members of the LGBTQ Equality Caucus called on the Senate to consider her nomination "quickly."
Judge Nathan is an exemplary representative of the LGBTQ+ legal community, which, together with the greater LGBTQ+ population, LeGaL strives to serve. pic.twitter.com/geZM0cTfSW

— LGBT Bar of NY ⚖️ (@lgbtbarny) November 17, 2021
Thank you @SenSchumer for recommending Judge Alison Nathan to serve on the 2nd Circuit Court of Appeals. Nathan is highly qualified and a dedicated public servant. If nominated and confirmed, she will be the 2nd openly lesbian woman to serve on a federal appellate court! https://t.co/Vl0qBhStBY

— Human Rights Campaign (@HRC) November 17, 2021
Judge Alison Nathan is an excellent pick for the Second Circuit. I'm so proud of the work that we do at @lgbtbarny and @LGBTQBar to get more #LGBTQ candidates nominated and confirmed to the federal bench! Thank you @SenSchumer & @POTUS . Let's keep it up!

— Eric Lesh (@EDLesh) November 17, 2021
Thank you @SenSchumer for recommending SDNY Judge Alison Nathan to serve on the 2nd Circuit. Ali is a dazzling jurist with remarkable credentials and an unshakable commitment to the rule of law and justice for all.

— Rep. Jamie Raskin (@RepRaskin) November 17, 2021
SDNY Judge Alison Nathan would make an exceptional 2nd Circuit judge & would be a trailblazer in her own right. Together w/ the @LGBTEqCaucus we urge the Senate to quickly take up her nomination & confirm her. https://t.co/76DIU5QM2V

— Rep. Ritchie Torres (@RepRitchie) November 18, 2021
On November 1, Vermont Supreme Court Justice Beth Robinson was confirmed to the Second Circuit as well. Biden nominated her for the bench in August, and she became the first LGBTQ woman in the country on a federal appellate court.
According to Lambda Legal, Robinson is only the 14th openly gay or lesbian judge currently serving on a federal court bench. Nathan is one of those fourteen.
Robinson had been an associate justice on the Vermont Supreme Court for the past ten years, where she also made history as the state's first out LGBTQ supreme court justice.
She is also known for her role as co-counsel in Baker v. Vermont, the first case in the country to grant the same legal protections to LGBTQ couples that are afforded to heterosexual married couples.
The U.S. Court of Appeals for the Second Circuit has jurisdiction over appeals made from federal legal proceedings in Connecticut, New York, and Vermont. If confirmed, Nathan would be entitled to serve a lifelong appointment to the bench.
Actual Story on LGBTQ Nation
Author: Juwan J. Holmes