Out NFL player Carl Nassib breaks his silence weeks after coming out
Author: Juwan J. Holmes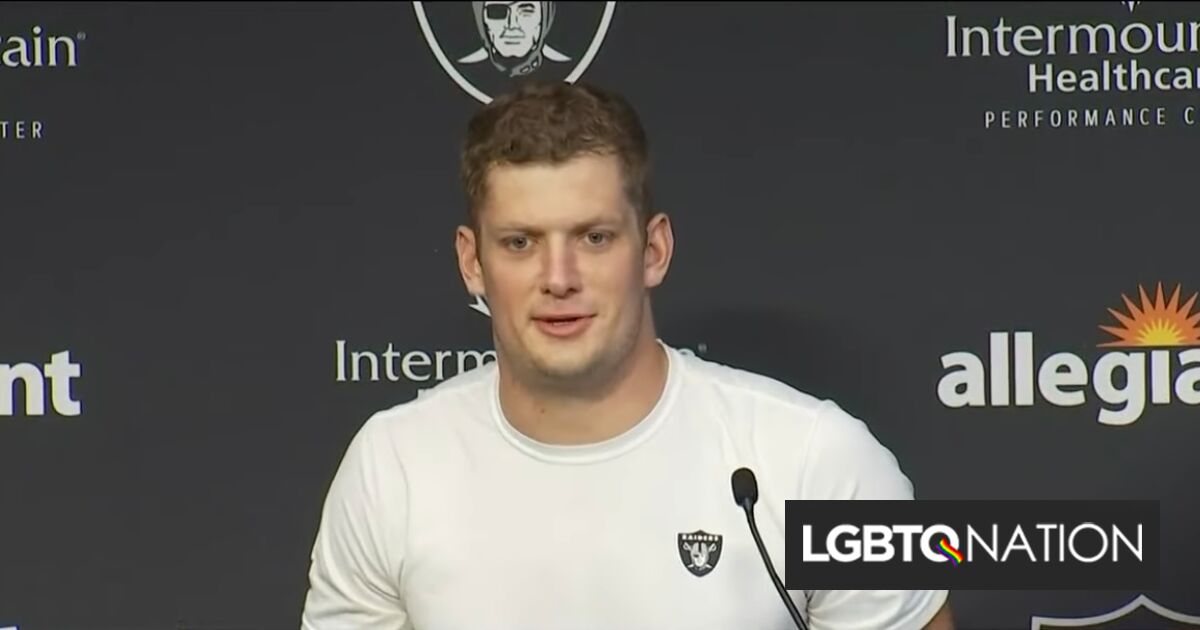 Las Vegas Raiders defensive lineman Carl Nassib spoke at a press conference Friday as the NFL preseason begins, marking the first time he has spoken publicly since announcing publicly that he is gay, making him likely to become the first openly gay player to take the field in a NFL game.
"I was definitely surprised by the big reaction. It was incredible," Nassib said of his coming out. "I thought nobody would care. But it was such a good feeling to have all the support. I was glad I could do my part to help bring visibility and representation to my community."
Related: NFL declares "Football is gay"
In June, Nassib posted a video and several screenshots of notes from his phone to Instagram, coming out publicly and explaining why he made that decision.
"What's up people, I'm at my house in West Chester, Pennsylvania. I just wanted to take a quick moment to say that I'm gay," he said in the video. "I've been meaning to do this for a while now, but I finally feel comfortable getting it off my chest. I really have the best life, I have the best family, friends and job a guy can ask for."
Nassib then added, "I'm going to start by donating $100,000 to the Trevor Project. They're an incredible organization, they're the number one suicide-prevention service for LGBTQ youth in America, and they're truly doing incredible things." The NFL later matched that donation.
In the post, Nassib requested the media "give me some space as I navigate this exciting time in my life" and that reporters don't "take it personally if I decline an interview or am unable to answer your questions."
Now, weeks later, Nassib is ready to speak.
Asked how many of his co-workers knew he was gay prior to his post, Nassib said, "Very few. Friends around the league knew."
He explained the process he went through before making his social media post. "I went to the coaches, made sure that they — I wanted to give them a chance to kind of digest, help me in the process. Then I went home, [because I] felt like I wanted to be around family and friends at home to make the announcement."
While most of his teammates did not have advance warning about the announcement, Nassib said he had no concerns about being accepted in his locker room, and he believes that's proven true so far.
"It's been great. I knew it was gonna be good, I had zero stress about that. Absolutely no worries about it," he told reporters. "I've got a great locker room, great teammates. I've been met with nothing but love and support. It's been incredible… Football players get a bad rap, but we're humble, hard-working, accepting people, and this was a great example of that, definitely."
Asked how it feels to begin preparing for his first NFL season while out, Nassib said, "It's been a great weight off my shoulders."
He pointed out, "I've been out to my family and friends for years at this point, so it's been good to not have to lie when I come in to work every day and, yeah, it's been good."
He also talked about his support for the Trevor Project and his hope to inspire others to feel safe coming out of the closet. "It is a lot bigger than I am. [I'm] totally cognizant of that, so I'm glad that the Trevor Project got so much love and support through just a 60-second video," he said.
"I hope I've helped people," Nassib said. "That's why you go through life, to try to help people as much as you can. I hope, that'd be awesome."
In September, Nassib is poised to become the first openly gay player to compete in a professional NFL game. While other NFL players have come out before, during, or after their career, none have taken the field while being publicly out.
Ryan K. Russell, who played for the Buccaneers in addition to the Dallas Cowboys, came out in August 2019, after an injury had sidelined him. He hopes to return to the NFL, but had yet to take the field since. Michael Sam came out in 2014, right before being drafted by the St. Louis Rams that August. He was cut before the season began.
Other former NFL players such as Ryan O'Callaghan, Colton Underwood, and Wade Davis have come out since their playing careers.
Nassib is the younger brother of former NFL quarterback Ryan Nassib. Ryan was a standout at Syracuse and became a backup for New York Giants, New Orleans Saints and Jacksonville Jaguars, only attempting ten NFL passes in his professional career.
Carl had to walk on at Penn State University, and did not make the field for the first two years. By his senior year, he was starting and a standout himself, winning the Big Ten Defensive Player of the Year award in 2015.
He was drafted by the Cleveland Browns in 2016. He would become a starter by his second season, but was waived by the tumultuous team after the 2017 season. He went to the Tampa Bay Buccaneers, where he doubled as a defensive end and outside linebacker. He set career highs in tackles for loss and sacks in his first season with the team.
In 2020, he signed a contract with the Raiders, who were just moving to Las Vegas from Oakland, for three years and $25 million.
Carl has recorded 20.5 sacks, 147 combined tackles, and 3 forced fumbles in five professional seasons so far.
Actual Story on LGBTQ Nation
Author: Juwan J. Holmes