NYC's oldest LGBTQ+ bar Julius' was just declared a landmark
Author: John Russell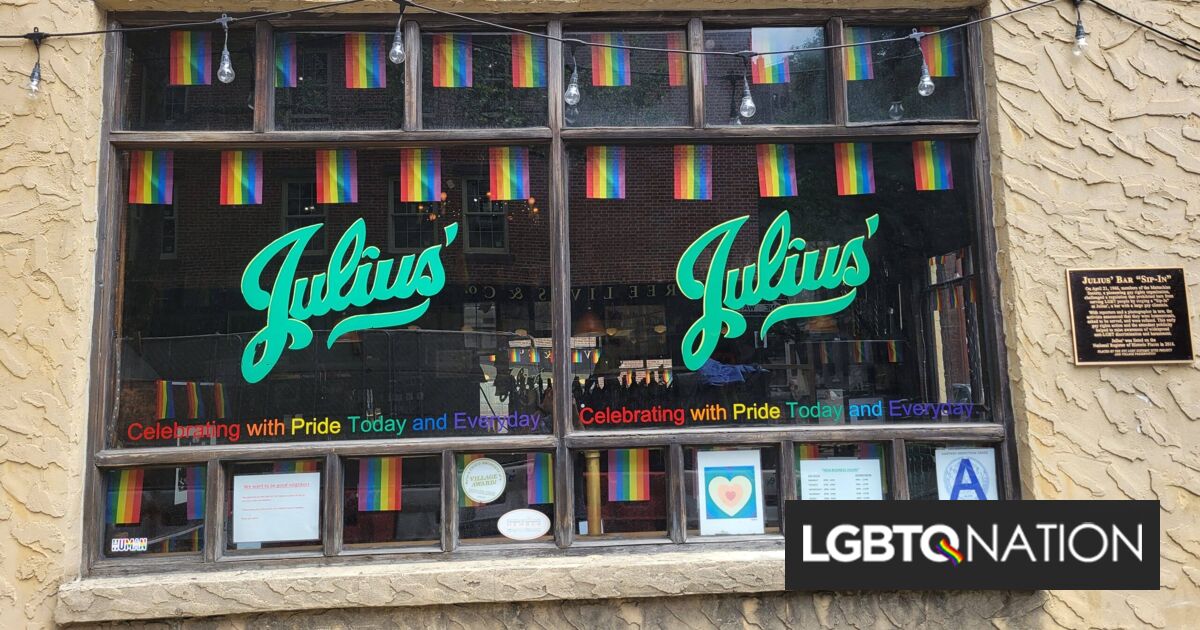 New York City's Landmarks Preservation Commission has officially granted the city's oldest LGBTQ+ bar landmark status. Earlier this week, the commission voted to grant Julius' an "individual landmark" designation.
The bar, located in Greenwich Village, opened in 1930 and has been called the oldest continuously operating gay bar in the city. It was the site of the 1966 "Sip-In," when three members of the Mattachine Society challenged a State Liquor Authority regulation that banned bartenders from serving LGBTQ+ people. Prior to that, however, the bar's management was reportedly hostile to its LGBTQ+ patrons.
Julius' was reportedly a favorite hangout for historical figures like Tennessee Williams, Truman Capote, and Rudolf Nureyev and has appeared in films and TV shows like Can You Ever Forgive Me and FX's Pose.
In 2013, Village Preservation, a non-profit organization that advocates for the preservation of architecture and culture in Lower Manhattan, sent a letter to the LPC requesting it recognize Julius' as a landmark. In 2016, it was added to the National Register of Historic Places.
During Tuesday's hearing, one Landmarks Preservation commissioner called the decision "long overdue."
"It has taken all this time, all these decades, and kudos for persistence and tenacity, and getting, you know, as the mayor likes to say, getting the job done," said Wellington Chen.
"As the country seems to be grappling with going backward in terms of acceptance and inclusion, I just want to say, bravo, New York, for bringing this one to the forefront," said Commissioner Michael Devonshire. "And may there be many more."
"What's interesting about it is that the building is an ugly building, in its current form. It's very debased, and it does not resemble the historic model that is usually followed by the commission," explained Commissioner Michael Goldblum. "And that's what I think is great about it, because by designating this as the period of significance, it holds onto a piece of New York that is disappearing — and that's the grungy part, you know, the '50s, '60s, '70s, when going down in this neighborhood was, you know, you were taking a risk."
"It's really about the history, and its being different, its being ugly, its being weird, is kind of the point. And I think that's a really beautiful thing," Goldblum added.
Village Preservation executive director Andrew Berman called the commission's vote "a huge step forward in recognizing our city's history as a refuge and home to the country's largest LGBTQ+ community, and to our city's crucial role in advancing civil rights movements and embracing and supporting marginalized communities."
"This is an integral part of New York and American history, and these stories and places must be honored and preserved," Berman said. "We praise the city for taking this long-overdue action today, and urge them to keep going."
In a statement, New York City Mayor Eric Adams (D) said that "Honoring a location where New Yorkers were once denied service solely on account of their sexuality reinforces something that should already be clear: LGBTQ+ New Yorkers are welcome anywhere in our city."
Actual Story on LGBTQ Nation
Author: John Russell