Navy officially launches support ship named after gay trailblazer Harvey Milk
Author: Juwan J. Holmes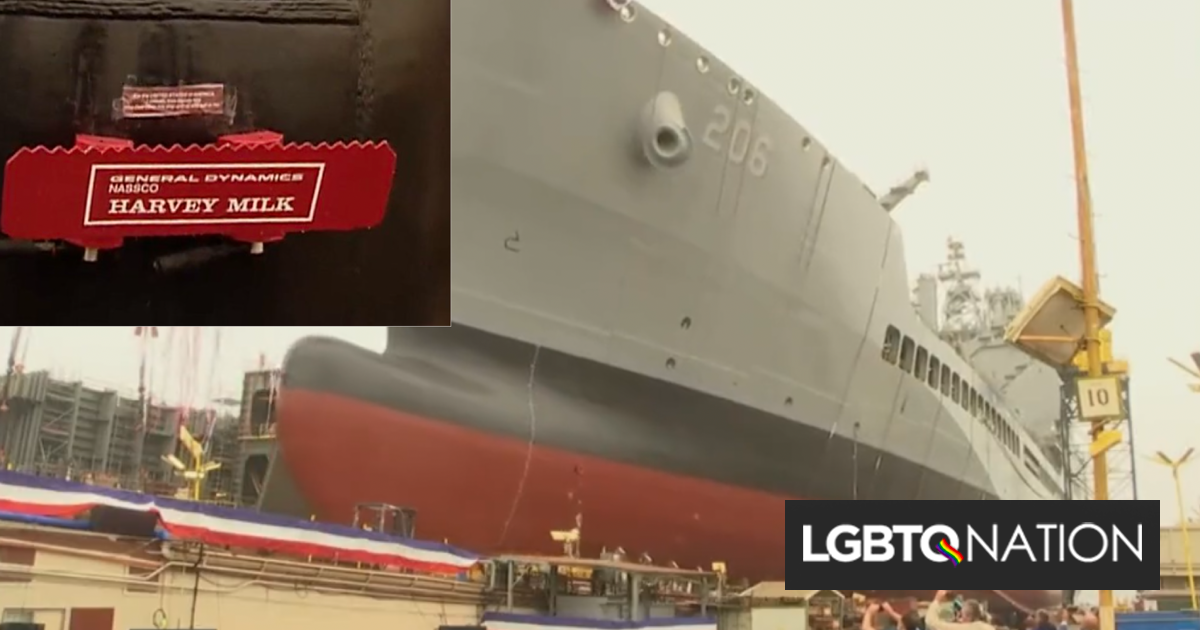 The United States Navy christened the USNS Harvey Milk today in a ceremony in San Diego, California, officially unveiling the newly built underway replenishment oiler, the second in a class of new ships that the Navy has started building since 2018.
The ship is named after the famed out activist who became one of America's first gay elected officials when he became a San Francisco City Supervisor, Harvey Milk. He was a former Navy officer who was forced to resign after his superiors found out he was gay.
Related: Take a moment to remember these out LGBTQ veterans you may not know
The USNS Harvey Milk is the second new ship built in the John Lewis class of ships — named after the late famed civil rights activist, as was the first ship in the fleet, which was launched into service in January and christened on July 17, 2021, exactly one year after his passing.
"Harvey was a beacon of hope not just for LGBTQ people, but all Americans. Now, this ship will serve as a symbol of hope for the world to see," said Todd Gloria, the out mayor of San Diego.
Gloria was on hand along with Secretary of the Navy Carlos Del Toro, former Secretary of the Navy Ray Mabus, California Democrats Vice-Chair David Campos (who once served as Milk's campaign manager), and Milk's nephew, Stuart, among others.
As is tradition, the ship was christened by breaking of sparkling wine across the ship's bow. Paula Neira, the Clinical Program Director of the Johns Hopkins Center for Transgender Health and a Navy veteran herself, undertook the deed before the ship was sent into the water, according to the Bay Area Reporter.
Sen. Dianne Feinstein (D-CA), who was one of Milk's colleagues at the time of his death, was originally supposed to perform the honor as one of the ship's "co-sponsors" along with Neira, but was unable to attend. She sent a letter commemorating the honor and the ship in her absence.
The USNS Harvey Milk was launched in San Diego. The US Navy Fleet Oiler was commissioned by Paula Neira, the Clinical Program Director for John Hopkins Center for Transgender Health. SF Supervisor Milk was killed in office by Dan White in 1978. Milk was a Navy Vet. @nbcbayarea pic.twitter.com/P1aPq9CWF2

— John Zuchelli (@tvzuke) November 6, 2021
Secretary Del Toro said at the christening, "For far too long, sailors like Lt. Milk were forced into the shadows or, worse yet, forced out of our beloved Navy. That injustice is part of our Navy history, but so is the perseverance of all who continue to serve in the face of injustice."
Del Toro added, "The secretary of the Navy needed to be here today, not just to amend the wrongs of the past, but to give inspiration to all of our LGBTQ community leaders who served in the Navy, in uniform today and in the civilian workforce as well too, and to tell them that we're committed to them in the future."
Stuart delivered the principal address of the event, telling those at the ceremony that his uncle "has a less-than-honorable discharge. He was forced to resign because he was gay," and its important that the discharge isn't reversed because "we have to teach our history to prevent ourselves from going backwards and repeating it."
He added, "Today, we are celebrating something much bigger than tolerance… [The] Navy not only recognizes, but honors those [other LGBTQ servicemembers]… so this Navy ship sends an important message to the world."
Truly honored to join @SecNav and so many federal, state, and local leaders for the christening of the USNS Harvey Milk. Harvey was a beacon of hope not just for LGBTQ people, but all Americans. Now, this ship will serve as a symbol of hope for the world to see. #ForAllofUs pic.twitter.com/QmfSDOkPfp

— San Diego Mayor Todd Gloria (@MayorToddGloria) November 6, 2021
So proud that the USNS Harvey Milk was christened today in San Diego.
Harvey Milk is a landmark figure in American history and in the fight for LGBTQ+ rights. This means so much to so many, and is a powerful symbol of inclusion and of our duty to welcome all people who serve. pic.twitter.com/4ybpevYo2O

— Congresswoman Sara Jacobs (@RepSaraJacobs) November 6, 2021
This morning I attended the christening and launch of the USNS Harvey Milk. We can all be proud that this newest naval vessel is named after one of our most notable LGBTQ community icons. pic.twitter.com/3Bx6T4Qe31

— Councilmember Stephen Whitburn (@CMWhitburnD3) November 6, 2021
#TeamToni was happy to attend @GDNASSCO's christening and launch ceremony for the @USNavy's Harvey Milk ship! This vessel was built by San Diegans to commemorate Harvey's profound civil rights legacy and honor his service in the Navy. 🏳️‍🌈🛳 pic.twitter.com/OhCwpDemIj

— Senator Toni Atkins (@SenToniAtkins) November 6, 2021
The Navy previously reported that Harvey Milk was more than 60 percent completed just in time for Harvey Milk Day, observed on May 22, the late trailblazer's birthday, and provided tours to LGBTQ activists and Milk's surviving family.
The ship will be operated by the Navy's Military Sealift Command, Combat Logistics Force Program now that its $3.2 billion construction by General Dynamics NASSCO is complete. It will be part of missions providing support, supplies, and resources to other Navy ships posted around the world.
Before Milk became one of the first out elected officials in America and a vocal proponent for gay rights, he served in the Navy, where he was court-martialed and discharged on February 7, 1955, 22 years before he would win election to the San Francisco Board of Supervisors.
Milk famously exhorted gays and lesbians to "come out," saying it was the way to change the average American's views on homosexuality.
"We are coming out to fight the lies, the myths, the distortions," he said in a speech. "We are coming out to tell the truths about gays, for I am tired of the conspiracy of silence, so I'm going to talk about it. And I want you to talk about it. You must come out."
Milk was killed by former city supervisor Dan White. White also murdered Mayor George Moscone at the same time.
White infamously used the "Twinkie Defense," saying that he had fallen into a deep depression after losing his seat on the board and had started eating sugary food before he went on his killing spree. A jury found White guilty of voluntary manslaughter instead of murder based on the outlandish defense; he served five years in prison for the murders.
After the verdict broke on May 21, 1979, the public organized a peaceful march in San Francisco's predominantly gay Castro District. What started as 500 people grew to a crowd of approximately 5,000. When the police showed up, the crowd grew increasingly angry. The police had raised over $100,000 for White's defense, as he was a former police officer.
The crowd marched to City Hall. The officers, who were ordered to hold the crowd back, began attacking marchers with nightsticks. When protestors destroyed several police cars and parts of City Hall, officers used tear gas to stop the riot, and the crowd dispersed. The officers' badges were taped over so their names could not be read.
Later that night, the police took to Castro Street, raiding a gay bar and attacking people on the streets, many of whom had participated in the march. Fifty-nine police officers and 124 protestors were injured. Two dozen people were arrested.
Then in 2012, the San Francisco Board of Supervisors officially urged the Secretary of the Navy to name a ship after their late predecessor. The Imperial Court System, a philanthropic drag organization started in San Francisco, undertook a massive letter-writing campaign as well.
In 2016, the Navy, under Secretary Mabus and the Obama administration, announced that they would name the new ships after civil rights icons – including Milk.
The Navy started construction on the ship in December 2019. It is the second of six ships that will be in the John Lewis fleet class. Other ships will be named after suffragist Lucy Stone, abolitionist Sojourner Truth, Supreme Court justice Earl Warren, and Attorney General Robert F. Kennedy.
Actual Story on LGBTQ Nation
Author: Juwan J. Holmes