Montana grants religious exemption to discrimination laws & hate groups are cheering
Author: Juwan J. Holmes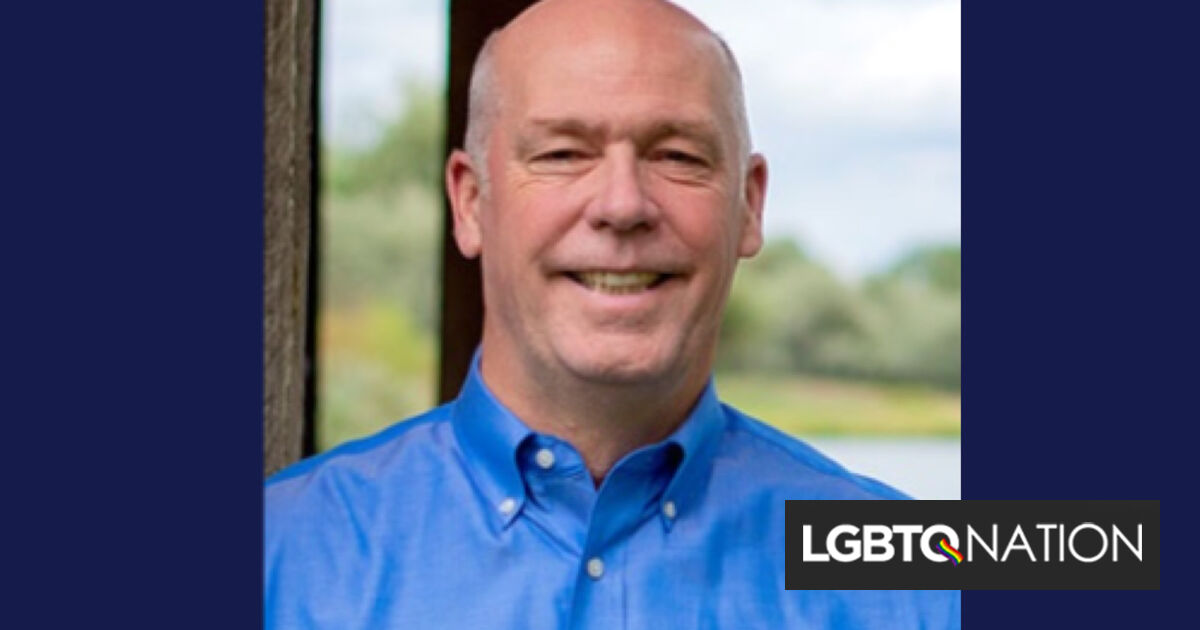 Montana Gov. Greg Gianforte (R) has finally signed the so-called Montana Religious Freedom Restoration Act into law, which grants people the freedom to discriminate if people claim their religious liberties are "substantially burden[ed]." It also "restores" the freedom of religion that is nominally protected in the First Amendment of the Constitution.
The law leaves broad implications that may likely lead to anti-LGBTQ discrimination on the grounds of "religious freedom." An anti-LGBTQ hate group leader is already cheering the governor and the legislation.
Related: Mike Pence's "traditional" organization for "freedom" will have a hate group leader advising

Senate Bill 215, as the act is coded, was passed almost entirely by Republicans, with one state Democrat in the Montana House voting in favor and none in the state senate. Not even all Republicans supported the legislation, but there was enough support to pass both chambers.
The Gianforte administration openly supported S.B. 215, despite Gianforte pledging not to push for such a bill in his gubernatorial campaign of 2016. Montana Lt. Governor Kristen Juras (R) testified before the Montana House Judiciary Committee during debates on the bill that she believed the proposal "is not a license to discriminate against the LGBTQ."
Although it passed the House on April 1, and the Gianforte administration made clear they supported the measure, Gianforte did not sign the proposal until April 22.
"To protect Montanans' right to freely exercise their religion, I was proud to sign the Religious Freedom Restoration Act today," he wrote in a tweet.
Tony Perkins, the President of the Family Research Council (FRC), a designated anti-LGBTQ hate group by the Southern Poverty Law Center (SPLC), praised Gianforte for signing the bill and said "it will be used in every case." Gianforte has previously donated to the Family Research Council and other anti-LGBTQ groups.
"The Big Sky leader has been signing so many good bills lately that his hand must be tired! And he's done it despite the bullies who've come knocking!" Perkins wrote in an email this week, referring to Gianforte as the "Big Sky leader," in light of the state's nickname as the "Big Sky Country."
"Despite being under intense pressure to kill the bill and veto it, he refused to be like several of his gubernatorial colleagues and cave when the heat was on," he added.
Perkins further derided opponents to the bill as "leftist activists" and claimed that there is no evidence of LGBTQ discrimination on the basis of religion.
The American Civil Liberties Union (ACLU) of Montana not only believes S.B. 215 will lead to discrimination against LGBTQ people, they stated "we know" it will.
"There is no doubt that discriminatory laws like this will harm people, especially trans youth who just want to live their best lives without the government telling them what they can and cannot do," Caitlin Borgmann, the Executive Director of the ACLU of Montana, said in a statement to LGBTQ Nation earlier this month.
Borgmann pledged at the time of the bill's passage that if it were signed into law, "we will fight them in court until they are no longer part of our beautiful state."
Alphonso David, President of the Human Rights Campaign, said that the law's enactment will "generate serious consequences for all Montanans."
"SB 215 will have a significant impact on vulnerable communities in Montana — including people of faith, women, and LGBTQ people," David said in a statement. "It will also jeopardize Montana businesses that voted for Governor Gianforte with the hopes of getting the state's economy back on track."
To protect Montanans' right to freely exercise their religion, I was proud to sign the Religious Freedom Restoration Act today.

Thank you to Sen. Carl Glimm (R-Kila) for your work on this legislation. pic.twitter.com/3sRFEjKUpl

— Governor Greg Gianforte (@GovGianforte) April 22, 2021
S.B. 215, and its proponents, cites the Religious Freedom Restoration Act of 1993 (RFRA), which provided that the federal government "shall not substantially burden a person's exercise of religion even if the burden results from a rule of general applicability," unless it is absolutely necessary to the government's function.
The federal law was proposed and passed with overwhelming bipartisan support in response to the Supreme Court decision in Oregon v. Smith. Native Americans faced discrimination from receiving state benefits due to exercising their religious beliefs, and the high court deemed it legal.
After the RFRA passed, the Supreme Court deemed enforcement of the law unconstitutional on the state level in 1997. That paved the way for each individual state to enact their own versions, since it is their responsibility to decide how to enforce their own laws.
Since then, many state versions of this act have differed from the original federal law, with the most notable rendition of this law came from Indiana in 2015. Then-Gov. Mike Pence (R), expanded the scope of the proposal to have more broader implications in light of marriage equality and the Supreme Court recognizing for-profit corporations could legally claim to have religious beliefs.
The law caused so much backlash that Pence had to cancel public appearances and his state GOP openly sought his selection as Donald Trump's running mate for president so that he wouldn't run for governor again and risk losing the seat. The legislature eventually revised the law.
South Dakota passed a similar bill into law with Gov. Kristi Noem's (R) signature this March, becoming the first state to enact this kind of act since Mississippi in 2016, when that state passed a "Religious Liberty Accommodations Act" to adapt their 2014 "Mississippi Religious Freedom Restoration Act." Both of Mississippi's laws remain in effect as the Supreme Court declined to hear appeals to the 2016 law.
Montana is now the 22nd state with a RFRA law.
Actual Story on LGBTQ Nation
Author: Juwan J. Holmes