Mexico's soccer team is begging fans to stop chanting homophobic slurs at their games
Author: Juwan J. Holmes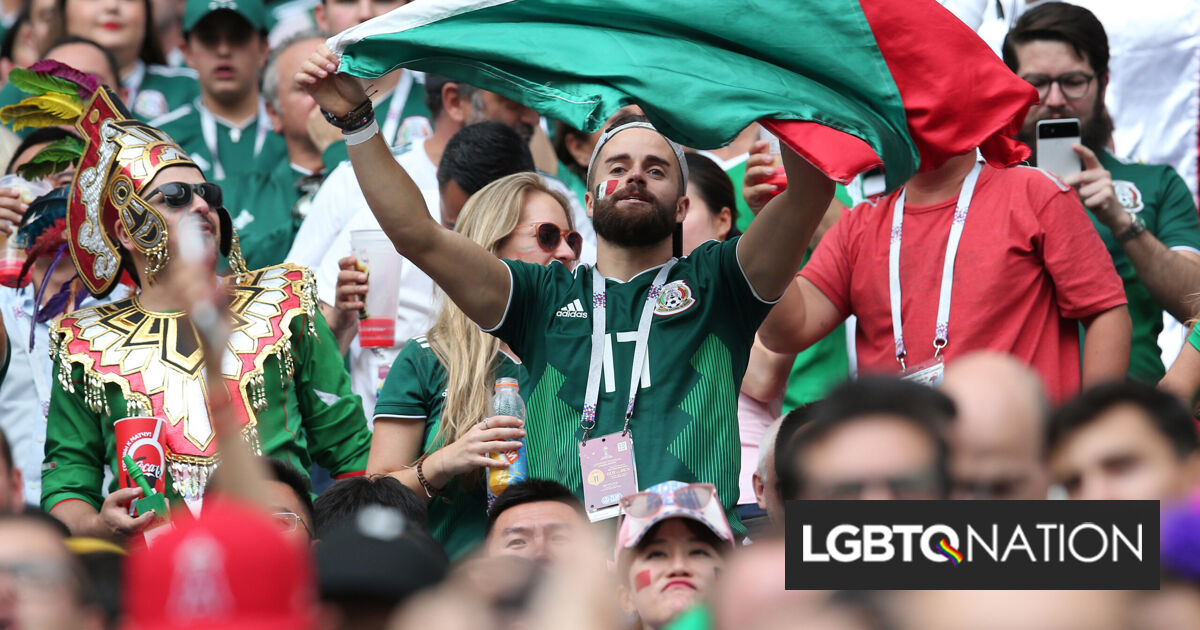 FIFA, the international body governing soccer across the world, has banned fans from being present at the Mexico National Men's Team for the next two qualifying professional games they have at home. They also received a fine equivalent to about $73,000.
The punishment is the result of fans attending games in Mexico consistently chanting anti-gay slurs, the most recent two games occurring in March for internationally-televised Olympic qualifiers. Now, team officials and fans of Mexico everywhere are practically begging for the sect of fans committed to chanting slurs to stop.
Related: This soccer team's response to a fan asking for "straight pride" is winning the internet
"Let's stop now, please," Yon de Luisa, president of the Mexico Soccer Federation, said at a press conference on June 19. "The (expletive) chant is discriminatory and is moving us away from FIFA competitions. To those who think it's fun to yell it out, I have news for you. It's not."
The team's most recent games held at home, against the United States and Dominican Republic, saw play temporarily stopped because of the discriminatory jeering.
Mexico has installed further sanctions for anyone found leading the chant. While their national team has faced repeated punishment since at least 2014 for use of the slur "puto," this is their most stringent punishment yet.
Mexico isn't alone, as Honduras, El Salvador, Canada, Chile, Brazil, Argentina, Paraguay, Peru, Italy and Albania were just some of the teams to receive fines prior to 2018.
FMF prez Yon de Luisa today in Toluca, speaking directly to fans who continue to use the chant:

"Let's stop now. Please. The 'p***' chant is discriminatory and is moving us away from FIFA competitions. To those who think it's fun to yell it out, I have news for you. It's not."

— Eric Gomez (@EricGomez86) June 18, 2021
"Puto" is used derogatorily toward gay people by Spanish-speaking people. It also has different meanings, but it is generally understood to be a slang term for "gay prostitute" and officials have already deemed any use of the word as a chant or toward a player as unacceptable.
De Luisa, already made clear in a statement earlier this month, "I want to make a call for reflection to all Mexican supporters, so that they understand the meaning and scope of this type of attitudes."
The Federation, known as the FMF, said that further punishment could lead to Mexico losing points and eventually, participation, in international events.  The chanting of slurs will "inevitably cause us to distance ourselves from each other, even to the point of missing an international competition, with everything important ahead."
The statement stressed, "The FMF has undertaken countless communication efforts, with campaigns, deployment in stadiums and digital content to raise awareness and report the consequences and reiterates that it emphatically rejects any form of violence or discriminatory behavior."
Mexico fans have been accused of bringing the chant when visiting stadiums, too. The chanting of "puto" at tournament games held in Denver earlier in June was blamed on fans of Mexico, the visiting team in those games.
After the game, the U.S. National Men's team posted to social media, denouncing the "racist, homophobic, vulgar or disrespectful comments" made to players after the game, "while hiding behind the anonymity of a social media."
In May, players and team staff began making videos telling fans to "#SupportWithoutOffending," encouraging fans not to use the slur (although they repeat it numerous times, and play audio of fans saying it, throughout one video.)
"It might even cost us a trip to the World Cup," one player read in Spanish.
"If you scream 'puto', the referee will stop the game, and you will be removed from the stadium," two people said after.
"Because of one word, players could be silenced," another player complained.
Another video features players reading the tweets of Mexico fans, complaining about their sect dedicated to chanting it.
Mexico was fined 12 times in the leadup to the 2018 World Cup, solely over chanting of slurs by fans at games. The team and star players have made efforts to discourage homophobia from fans, but it appears to not have been enough.
In 2019, FIFA initiated new guidance for referees and officials to combat the chanting of slurs in games, many of which are watched by millions around the world. Officials give the home crowd one warning once they hear the chanting, play can be stopped after the second, and continual disregard for the rules will lead to teams being sent back to the locker rooms.
If the game is being played on a team's home field or the fans are identified as supporting a specific team, that team may have to forfeit the game and points toward attending the World Cup and other FIFA events.
Actual Story on LGBTQ Nation
Author: Juwan J. Holmes