Man accused of trying to "start a race war" comes out in attempt to prove he's not a neo-Nazi
Author: Juwan J. Holmes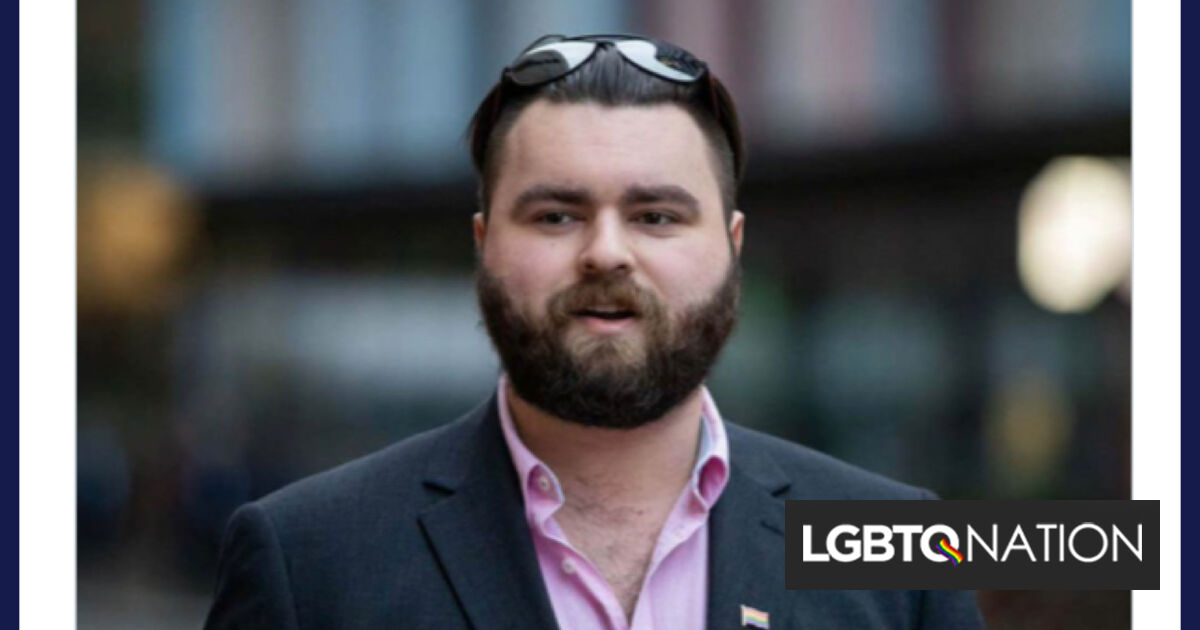 A former college student being accused of being a member of neo-Nazi extremist organizations and encouraging terrorism and hatred is claiming that he is innocent, in part because he's bisexual which is "in direct conflict with Nazism."
Andrew Dymock was first arrested on 15 criminal charges in June 2018. He was attempting to fly to the United States when he was arrested.
Related: Former neo-Nazi avoids prison sentence after arguing being trans is punishment enough
Dymock is before the Criminal Court of England and Wales, accused of working to promote the System Resistance Network (SRN), a recognized neo-Nazi organization, while attending college. He also allegedly set up a dedicated PayPal account for the website, contributing to the fundraising efforts of the group.
Prosecutors claim that Dymock had ran the Twitter for SRN, wrote and spread extremist material on a website he set up, and coordinated with other extremist groups online between 2017 and 2018. Upon his arrest, Dymock was found to have neo-Nazi material (including "books, flags, clothes and badges") and online activity dating back at least to when he was 17.
One of his charges includes encouraging "hate on the grounds of sexual orientation."
The BBC reported from the court proceedings of his trial, which began this week, that Dymock denied all the accusations and told investigators, "I am bisexual but lean towards being homosexual, in direct conflict with Nazism."
He also reportedly told officers that he believes Nazis are "not far right" and said of books in his possession, "I would be offended if someone called me a Nazi. Mein Kampf and Siege are for my research."
Dymock wore to court two Pride badges while claiming that he is being set up.
His claim that he is bisexual comes in direct contradiction with some of his supposed writing, which included an article called "homosexuality, the eternal social menace."
Crown prosecutors in England told the court that Dymock would write clear "encouragement of the eradication of Jewish people" in articles, such as one entitled "truth about the Holocaust" that included images of the former Auschwitz concentration camp.
"The author calls for the destruction, the eradication, the extermination of an entire race of people," prosecutor Jocelyn Ledward said.
She noted that SRN's "online campaign comprised [of] virulently racist, anti-Semitic and homophobic propaganda, which sought to stir up a race war against others that it perceived… as race traitors."
Ledward said in another article that Dymock authored, he wrote that the "racial holy war is inevitable" because "every stabbing, bombing, shooting further plays into our hands."
In a text to a girlfriend, Dymock said he dreamed "I went around the Wild West executing faggots with a .44 magnum revolver."
Other alleged hate-fueled statements Dymock is alleged to have said included that "we did not finish the job" in reference to the Holocaust, referring to Jewish people as "a cancer on this earth," and calling gay people "degenerate scum" via the Twitter account.
But Ledward stressed that the prosecution is not because of not just Dymock's "adherence to a neo-Nazi creed," but because of "his encouragement of terrorist activity, of violence, as a means to shape society in accordance with his beliefs."
Dymock, for example, allegedly kept a copy and distributed a video where SRN members ran around town plastering "posters of a Nazi holding a noose over Southampton Pride adverts." Another video in his digital archives included two people burning a pride flag.
This "provides a clear and strong indication as to the group's extreme homophobic mindset, and the sort of tactics employed by the group in order to stir up hatred in local communities," Ledward said.
Dymock faces 15 charges, including 12 terrorism-classified allegations, and has continued to deny all allegations.
SRN has called homosexuality a "disease" and has "zero-tolerance" to non-whites, Jewish and Muslim communities, prosecutors reported. The organization was banned in England in 2020.
Dymock, part of #Sonnenkreig, a group linked to five deaths, had previously called for the Assassination of Prince Harry for marrying a (his words) 'mixed race wh*re'.

— John O'Connell (@jdpoc) January 3, 2020
He faces 15 charges

5 x encouraging terrorism
4 x disseminating terrorist publications
2 x terrorist fundraising
1 x possessing terrorist info
1 x possessing racially inflammatory material
1 x stirring up racial hatred
1 x stirring up hate on the grounds of sexual orientation

— Daniel De Simone (@DdesimoneDaniel) May 6, 2021
An neo-Nazi used a terrorist website he controlled to call for the "extermination" of Jewish people, a court heard.

Andrew Dymock is on trial at the Old Bailey charged with 15 offences.

He was allegedly a member of Sonnenkrieg Division and System Resistance Network pic.twitter.com/Kwr1oIRuuO

— Daniel De Simone (@DdesimoneDaniel) May 7, 2021
He told detectives: "I am bisexual but lean towards being homosexual, in direct conflict with Nazism", also telling officers that the Nazis were "not far right".

The trial has adjourned until Monday

— Daniel De Simone (@DdesimoneDaniel) May 7, 2021
Actual Story on LGBTQ Nation
Author: Juwan J. Holmes