"MAGA Life Coach" claims that "gay, lispy f*ck" Barney Frank was behind Joe Biden's speech
Author: Juwan J. Holmes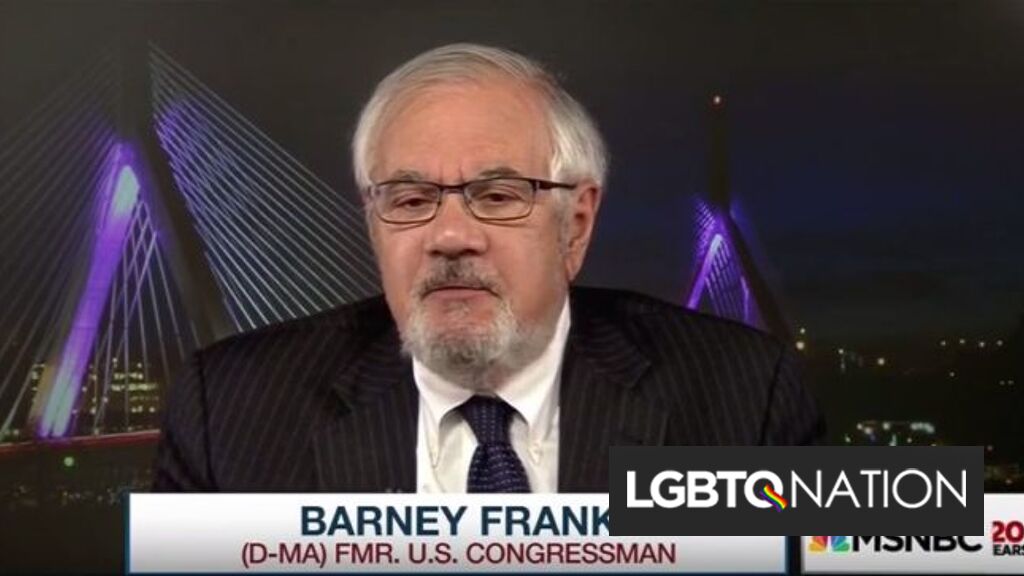 Former Rep. Barney Frank (D-MA) was most likely speaking in Joe Biden's earpiece during his speech from the White House on Thursday — if he's not dead — because he and Biden both have a lisp, are supposedly "r**arded," and are "idiots."
That's the claim that "MAGA Life Coach" and former candidate for Congress Brenden Dilley made on the Friday stream of his YouTube show "The Dilley Show."
Related: Milo Yiannopoulos claims he is now "ex-gay" in latest grift
Dilley made the claim in response to a fan's question, wondering "who's the asshole speaking in Biden's earpiece — is it [Barack] Obama or Susan Rice?"
Dilley believes it's not the former President or Ambassador to the UN, but rather someone "equally as mildly retarded." He then proceeds to guess that it is Frank.
"Remember him? Remember Barney Frank… he was the gay, lispy fuck who left Congress."
"Oh yeah," his wife recalls, off-screen.
"He's not dead, right?" Dilley asks repeatedly. When a commenter claims that he is dead, Dilley's wife "fact checks" if Frank is dead or not. He is, in fact, not.
"Really, he's not dead? …I thought he had AIDS. You know, the lisp, it's a symptom."
Dilley then remarks that Frank is 80 year old, remarking that "he's probably still taking 'D'." His wife then reads from Frank's Wikipedia article, which states that "Frank resides in a studio apartment complex in Newton, Massachusetts" with his husband, Jim Ready. From there, Dilley continues joking about Frank's name and his residency in the studio apartment.
"I'm just wasting people's time at this point," Dilley then remarks before moving on to explain the method behind his "trolling."
Right Wing Watch took notice of Dilley's remarks just one week after Dilley claimed he was "what kept Right Wing Watch in business for years." He then said the monitoring project from People For the American Way had "faded into irrelevancy" after Dilley's ban from Twitter.
"I was to Right Wing Watch what Trump was to, like, CNN. I'm serious," he remarked.
It is indeed very sad that we faded off into irrelevancy once MAGA life coach Brenden Dilley was booted from Twitter. pic.twitter.com/HDaWVodhlY

— Right Wing Watch (@RightWingWatch) March 5, 2021
Dilley is a former personal trainer and real estate portfolio manager-turned-political hopeful-turned-YouTuber.
Dilley ran for Congress in the Republican primary for Arizona's 8th Congressional District in 2018. He earned about 1 percent of the vote. The self-described "MAGA Life Coach" caught attention for his shock when former President Donald Trump contracted coronavirus, because "he ain't got those liberal genes."
Dilley previously expressed disbelief about the sexual orientation of out gay Pennsylvania state Rep. Brian Sims. He then distastefully called upon Sims to "prove" his gayness.
"That c*cksucker from Pennsylvania," Dilley said in reference to Sims, "this dude's not f*ckin' gay. Sims doesn't like the d*ck. The rumor in Pennsylvania is that Sims pretends to be gay because it provides coverage for his behavior. Because he knows that anybody who goes against him can be accused of being called a bigot. And the rumor in the political circles in PA is this motherf*cker is straight and that he only acts gay so that he can get coverage from the LGBTQ community and Democrats.
"Wrap your f*ckin' mind around that."
Actual Story on LGBTQ Nation
Author: Juwan J. Holmes