Injunction blocks new Tennessee law that requires anti-trans signs on business bathrooms
Author: Juwan J. Holmes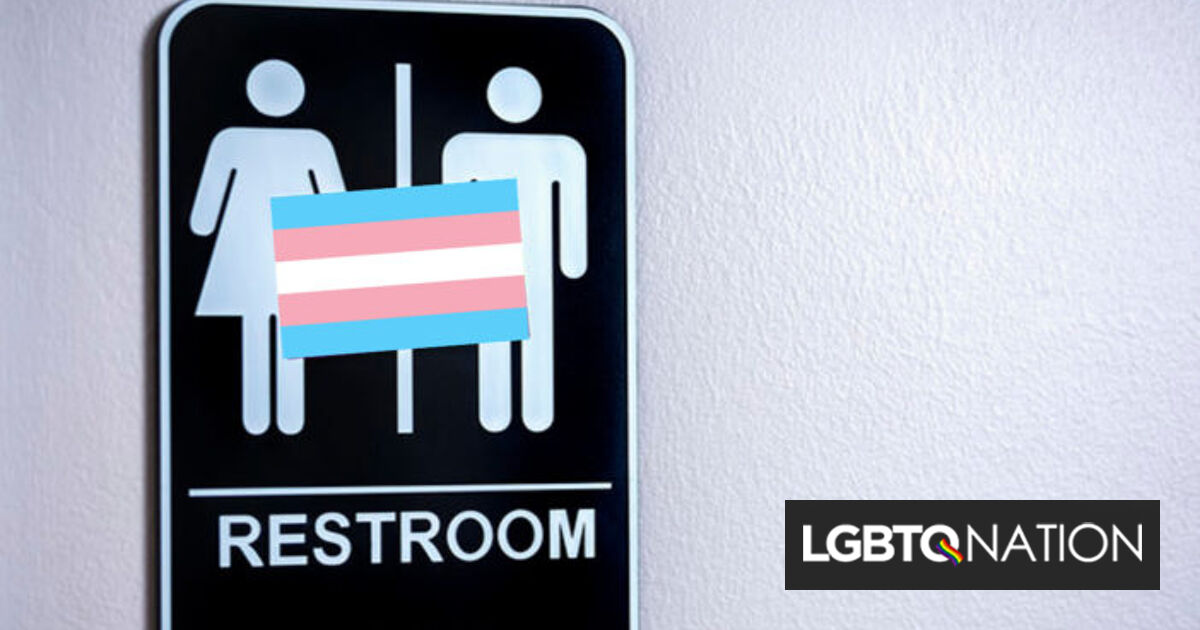 A federal judge has granted an injunction requested by the ACLU on behalf of two businesses and an individual suing the state of Tennessee and state officials over a recently enacted law that would require any "building or facility open to the general public" to post signage if they allow transgender people access to the bathroom that cisgender people use.
The law will not be in effect until the entire litigation is complete and a federal judge issues a decision on its constitutionality.
Related: Tennessee is telling LGBTQ people we aren't welcome. It's time we listened to what they're saying.

Two weeks after the ACLU first asked for the injunction, U.S. District Court Judge Aleta A. Trauger for the Middle District of Tennessee granted it while the lawsuit against the legislation proceeds.
The law, passed as House Bill 1182, requires businesses to post signs that read, "This facility has a policy of allowing the use of restrooms by either biological sex, regardless of the designation on the restroom."
The bill's sponsor, state Rep. Tim Rudd (R), claimed the law doesn't target or discriminate against transgender people since it doesn't ban them from using the restroom altogether.
Instead, he says it's aimed at "the protection of women and children against sexual predators that could be taking advantage of policies, executive orders or legislation that may allow the opposite sex to enter a restroom, shower or locker that allows more than one person in the facility at a time."
The bill passed the state House on March 30. The state senate passed in on April 29, and Gov. Bill Lee (R) signed it in May, claiming it promoted "equality" in Tennessee, which is instead becoming the home of what's known as "the slate of hate." This was the first anti-trans bathroom bill that went into law in the last five years.
Two business owners are pursuing the lawsuit: Kye Sayers, who owns the performing arts and community center Sanctuary in Chattanooga, and Bob Bernstein who owns a restaurant called Fido in Nashville.
"These signs would have damaged our businesses and the environment we have tried to create for our community, customers, and staff," Sayers said in a statement.
"I'm happy that the court stopped this invasive and decisive legislation for now," Bernstein also stated, "and am hopeful this leads to a permanent ban of an unconstitutional violation of my freedom of speech rights."
Hedy Weinberg, the executive director of the ACLU of Tennessee, also celebrated the injunction, stating "This law is bad for businesses in Tennessee, and most importantly, harmful to transgender people. We are glad the court saw that this law is likely unconstitutional and hope that the state gives up the wasteful effort to defend discrimination and a violation of the First Amendment."
Congrats to @RoseIsRedNYC and @emersonsjsykes and @aclutn on an amazing win preliminarily blocking Tennessee's cruel sign law requiring business to post notice when trans people are permitted in the bathroom. More soon. The decision is incredible.

— Chase Strangio (@chasestrangio) July 9, 2021
Court Tally:
ACLU 3 – Anti-Trans Laws 0
(TN signs, NC bathrooms, Idaho sports)

— Chase Strangio (@chasestrangio) July 9, 2021
The injunction was issued by Judge Trauger because, as she stated in her ruling, "The plaintiffs have presented evidence that they have strived to be welcoming spaces for communities that include transgender individuals and that the signage required by the Act would disrupt the welcoming environments that they wish to provide.
"That harm would be real, and it is not a harm that could simply be remedied by some award at the end of litigation," Trauger, a Clinton appointee, added.
The defendants in the lawsuit — Glenn Funk and Neal Pinkston, district attorneys general for the 20th Judicial District and 11th Judicial District of Tennessee, respectively; Christopher Bainbridge, director of code enforcement in Tennessee; and Carter Lawrence, the Tennessee state fire marshal declined comment due to ongoing litigation — either declined or did not return requests to comment from NBC News.
This is the first of two lawsuits beginning to proceed against Tennessee for what is considered one of the most harmful anti-trans bills enacted in a wave of anti-LGBTQ bills enacted into law, many going into effect beginning last week.
Mike Curb, owner of the Nashville-based Curb Records label, is also suing the state officials over the law in separate litigation pursued by GLBTQ Legal Advocates and Defenders (GLAD), which sues Funk, in addition to Gov. Lee and two other state officials. That lawsuit was filed two weeks ago.
BREAKING: A federal court has blocked Tennessee's anti-trans restroom law from going into effect.

Our clients, two Tennessee business owners with trans-inclusive restroom practices, challenged the law that would have forced them to post a government-prescribed warning sign.

— ACLU (@ACLU) July 9, 2021
This is a critical win for our community.

Today and every day, we will continue to fight alongside our partners to stop dangerous, discriminatory bills like Tennessee's from becoming law. https://t.co/GOWAIe3Qe7

— Alphonso David (@AlphonsoDavid) July 9, 2021
The snippets of judicial opinion are great. It's like watching twitter transphobes have to defend their shit in court.

TN: "We're worried about sexual predators taking advantage of bathroom sigange!"

Judge: "Is this happening… anywhere?"

TN: "Well… no… but…" pic.twitter.com/lb5rTyPVOc

— Erin, boycotting Arkansas businesses (@ErinInTheMorn) July 9, 2021
Actual Story on LGBTQ Nation
Author: Juwan J. Holmes