Dave Chappelle's alma mater reschedules but move forwards with naming theater after him
Author: Juwan J. Holmes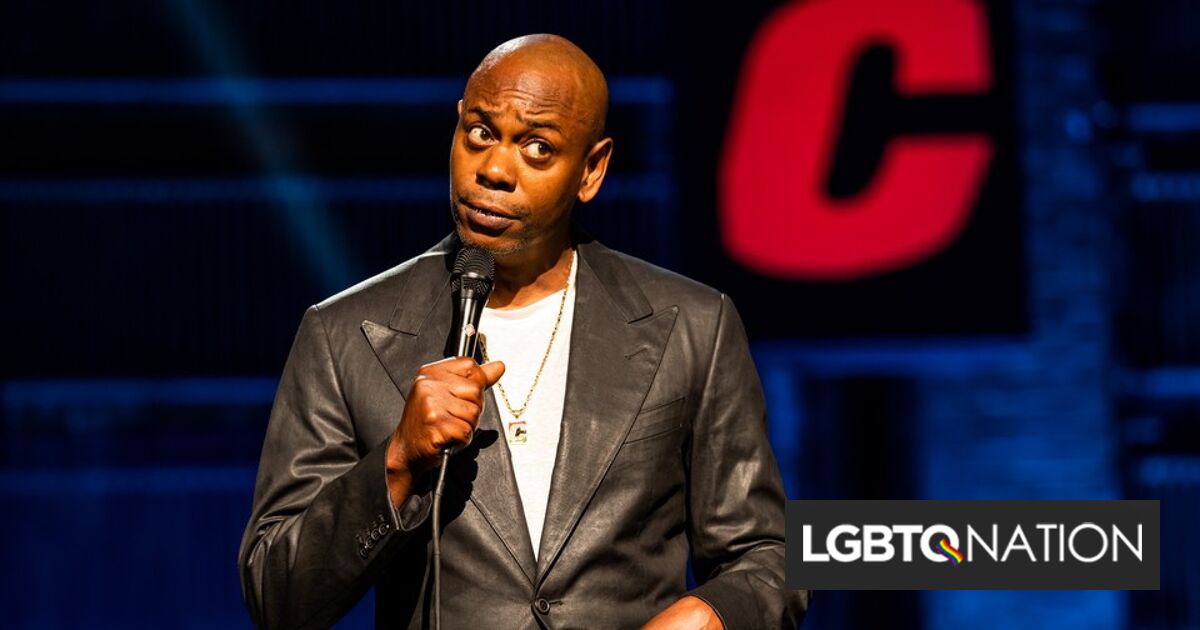 The Duke Ellington School of the Arts, a public high school in Washington D.C., has announced they are temporarily postponing a fundraiser and event where the school's theater will be renamed after comedian and alma mater Dave Chappelle. The school specifically cites his "controversial material juxtaposing discrimination against Black Americans with that against non-Black members of the LGBTQ+ community" featured in his latest Netflix special, The Closer, and other performances.
While they are still intending to go through with the renaming because Chappelle is "one of our most distinguished alumni" and the honor "was the desire of one of our founders, Peggy Cooper Cafritz," who passed away in 2018, they said that holding off for a few months would be an "opportunity for a teachable moment" for Chappelle and students at the school.
Related: Jay-Z says "super brave" Dave Chappelle's Netflix special controversy can start "dialogue"
"As envisioned, Chappelle has elevated the national and international profile of the school by giving witness to the many ways Ellington has improved the lives of its students and fellow alumni," Duke Ellington School of the Arts said in a statement released yesterday. "Chappelle has engaged Ellington students to perform at numerous events… donated his first Emmy Award and other memorabilia to the school, which are now on display as inspiration for all… served as commencement speaker and hosted a masterclass featuring accomplished artists… [and] additionally, he has personally donated or raised millions of dollars to address the school's chronic under-funding."
Still, the school said that The Closer "has sparked a national debate around race, gender, sexuality and 'cancel culture.' As a learning institution that champions inclusivity, diversity, equity, and belonging, we care deeply about protecting the well-being and dignity of every member of our student body, faculty, and community.
"We also believe moving forward with the event, originally scheduled for November 23, 2021, without first addressing questions and concerns from members of the Ellington community, would be a missed opportunity for a teachable moment," they declared.
They have rescheduled the event, planned for two weeks from now, to be held on April 22, 2022 instead.
"We will lean into this moment as a community. We have engaged in listening sessions with our students and have allowed space for diverse viewpoints. We are committed to fostering a community where every individual feels both heard and supported," the school pledged.
Duke Ellington School of the Arts also pledged that "Using Chappelle's latest works as the impetus, we have expanded our Social Studies curriculum to include content related to political activism, civic engagement, arts activism, and the intersections of race, gender, and sexuality. Our objective is to uplift conversations around artistic freedom and artistic responsibility."
They hope that the school's community will learn from this "moment" that "being an artist and public figure comes with both responsibility and an increased level of scrutiny." They "recognize that not everyone will accept or welcome a particular artist's point of view, product or craft," but "reject the notion that [an instance of] 'cancel culture' is a healthy or constructive means to teach our students how society should balance creative freedom with protecting the rights and dignity of all its members."
In a statement, Chappelle's representative Carla Sims told the Washington Post that he's okay with the decision. "Dave is an artist and activist and applauds the school taking time to develop creative and critical thinkers. He supports the school and any effort to contribute to open conversations vs. cancellations," Sims said.
The school's attempt to bridge the difference between Chappelle, who declared that he's "team TERF" in the special, and trans people made the subject of his ridicule on numerous occasions, is the latest turn in the saga that's ensued since Netflix released The Closer in October.
The school announced that they would name the theater in his honor before The Closer was released — in fact, he screened it ahead of its release for fellow alumni at the event right after school officials made the announcement. At the time, he said getting the theater named after him is "the most significant honor of my life."
Now, the honor will have to wait.
In addition to declaring himself a TERF, Chappelle misrepresented author J.K. Rowling's transphobic views in his special, then launched into a derogatory diatribe about transgender women's genitals, and told a story about Daphne Dorman, his supportive trans friend who killed herself after online critics slammed her approval of Chappelle's anti-trans humor. He implied that other transgender Twitter users bullied Dorfman into suicide.
He also boasted about beating "the shit out of" a butch lesbian who he claimed punched him, and expressed jealousy about how, in his view, LGBTQ people have achieved greater equality than Black Americans, while denying that anti-LGBTQ hate crimes still occur regularly.
"In our country, you can shoot and kill a [n-word]," Chappelle said in the stand-up special, "But you better not hurt a gay person's feelings."
Since its release, people that have attempted to condemn, critique, or correct Chappelle's comments in the special, but they have been denounced as attempting to "cancel" him or "misunderstanding" of his statements.
Netflix has defended Chappelle's anti-trans remarks as ethically sound for them to present, despite criticism from talent, staff, and LGBTQ advocacy groups. Recently, two trans people that worked at Netflix — one fired while pregnant, another suspended before being reinstated — have accused the streaming giant of committing illegal retaliatory actions against them as a result of organizing in response to the special.
In response to Netflix's response, hundreds joined the Netflix Walkout on October 20 in support of trans rights and representation. GLAAD, the National Black Justice Coalition, several celebrities, and Netflix talent supported the protest, with some even attending.
Chappelle has claimed in performances since then that "It seems like I'm the only one who can't go to the office," suggesting he's the one not being protected at Netflix. Meanwhile, Chappelle has the likes of Caitlyn Jenner, Channing Tatum, and Lauren Boebert on his side as well.
The school's decision to "include content related to… the intersections of race, gender, and sexuality" also comes at a time where schools are under intense scrutiny from elected officials and right-wing activists seeking to stop the "indoctrination" of students.
The announcement will likely lead to allegations that the school is attempting to instill so-called "critical race theory" and "gender ideology," otherwise once known as history, health and civics. They're already being accused in right-wing media and on social media of attempting to cancel Chappelle anyway, despite their rejection of the notion.
The school is jointly operated by D.C. Public Schools, the Kennedy Center, and George Washington University.  Other alumni of Duke Ellington School of the Arts include out actress Samira Wiley, out singer-songwriter Meshell Ndegeocello, singers Johnny Gill, and Ari Lennox, and journalist Adam Serwer.
Actual Story on LGBTQ Nation
Author: Juwan J. Holmes