Convicted insurrectionist is asking for money so he can "refund the police"
Author: Juwan J. Holmes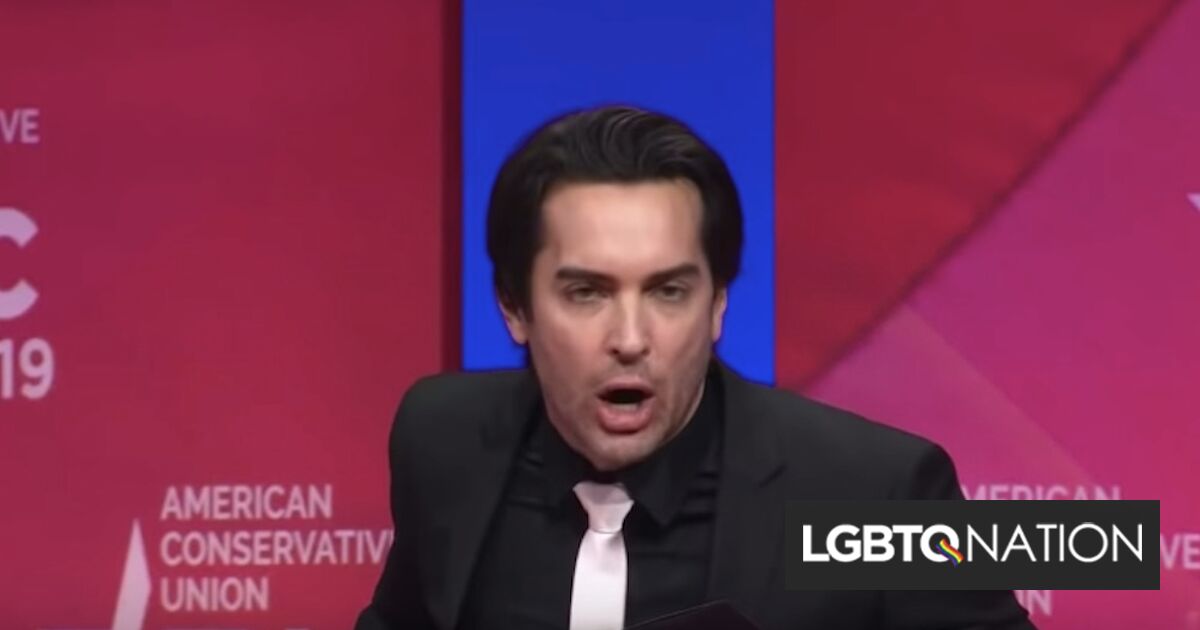 A gay man who pled guilty to charges related to his encouragement and participation in the insurrection attempt at the U.S. Capitol on January 6 is now raising money that he claims will go towards helping police officers. But the funds are not for the U.S. Capitol Police, who are currently suing organizers of the riots that led to the insurrection, but supposedly to "REfund police departments."
Brandon Straka, who will be sentenced next month stemming from his involvement in events on January 6, is taking a break from fundraising for his own defense and attempts to rebuild his reputation, to supposedly "GIVE BACK to the 14 most heavily defunded police departments," which he does not name.
Related: Trans woman arrested for storming the Capitol demands to be let out of jail for her own safety
Straka — a hairdresser by trade — gained notoriety for creating the #WalkAway movement that encouraged groups that usually vote for Democrats – like LGBTQ people – to "walk away" from the Democratic Party and vote for Republicans. He was not only present at the Capitol on January 6, but he spoke at a "Stop the Steal" rally the day before, encouraged thousands of people on social media to continue storming the Capitol the day of, and proudly bragged about it after.
One police officer, Brian Sicknick, succumbed to his injuries right after the attacks. Four other Capitol Police officers that defended the Capitol that day have died from suicide since. U.S. Capitol Police officers named Straka in a lawsuit as a co-defendant who helped an "unlawful effort" to support the attempted insurrection, alongside Donald Trump, the Proud Boys, and others.
Now, in an effort to show that he is not "anti-law enforcement" just because he participated in attacks that led to the death of five officers and several injuries to others, he is claiming that if he raises his goal of $100,000, he can spread it between several unnamed law enforcement agencies.
"One of the most painful things for me personally about my legal case this year is that the media who hates you and me and our country has used my case as an excuse to portray me as anti-law enforcement," Straka claims in an email calling for donations, before adding "Nothing could be further from the truth."
Straka says that while conservatives have "all but forgotten this problem," he hasn't, and so he as the "#WalkAway Foundation" is setting "a goal of $100,000 to be raised by the end of the year to REfund police departments across the country that have been defunded as a result of the leftist push to demonize America's finest."
He says the campaign "may even save the job of a police officer who may be at risk of unemployment going into this holiday season."
"#WalkAway GIVES A DAMN ABOUT OUR MEN AND WOMEN IN UNIFORM," he says.
The far-right website Gateway Pundit reposted his email as well.
On January 6, Straka was present near the Capitol the day of and wrote on Twitter to his half a million followers that day, "Patriots at the Capitol – HOLD. THE. LINE!!!!" while rioters were breaking into and roaming inside the building. Still, he maintains he did not enter the Capitol building.
That night, Straka said he was "confused" that major GOP leaders were publicly claiming they didn't support the crowd that was carrying weapons and chanting "Hang Mike Pence" as they trashed the Capitol.
"I'm completely confused," he tweeted. "For 6-8 weeks everybody on the right has been saying '1776!' & that if congress moves forward [with ceremonially accepting each state's electoral votes] it will mean a revolution!"
"So congress moves forward, Patriots storm the Capitol- now everybody is virtual signaling their embarrassment that this happened."
He later deleted his social media accounts, and two days after, Facebook deleted the page for #WalkAway, saying that it violated Facebook's policy against "hateful, threatening, or obscene" content.
Multiple people also caught Straka on video – which the FBI obtained after videos were posted to YouTube – that allegedly showed him outside the Capitol, shouting "We're going in!" and "Go! Go!"
Another video allegedly showed shows Straka urging other rioters to attack a Capitol Police officer and rip away his protective gear. According to charging documents, Straka shouted: "Take it away from him." Other people in the crowd then yelled, "Take the shield!"
Straka was arrested later in January on multiple charges that could have resulted in a five year jail sentence. Since being arrested, Straka has continued to ask supporters to support him financially, despite the fact that he's been banned from many financial services due to his online activity.
"After being PERMANENTLY BANNED from PayPal, Venmo, and Stripe," Straka states repeatedly in fundraising emails, "I have CUSTOM CREATED a support platform using a conservative friendly payment processor company." He also asks followers to send him checks or subscribe to his various online accounts.
In March, it was revealed that Straka got $20,800 in Paycheck Protection Program (PPP) funds and the rightwing organization he founded got $12,354, although it's not clear if there were any other employees working for Straka or the organization other than himself.
In July, he attempted a political comeback with a "relaunch" cocktail party in a secret location, which was revealed to be a winery in Guerneville, California. After that, he struck a deal with prosecutors and pled guilty to one charge of disorderly conduct stemming from the Capitol insurrection.
He issued his guilty plea on October 6, and October 8 sent an email message to his #WalkAway supporters asking for them to "Start posting positive things that you believe about me" online and to "tell your husbands, boyfriends, sons, and fathers to sign up for my emails!"
He has blamed his ordeal not on his actions but on "The growing political divide in this country," something his #WalkAway organization is arguably built on.
Actual Story on LGBTQ Nation
Author: Juwan J. Holmes