Billboards saying "GAY" are up in Florida in protest of the Don't Say Gay bill
Author: Alex Bollinger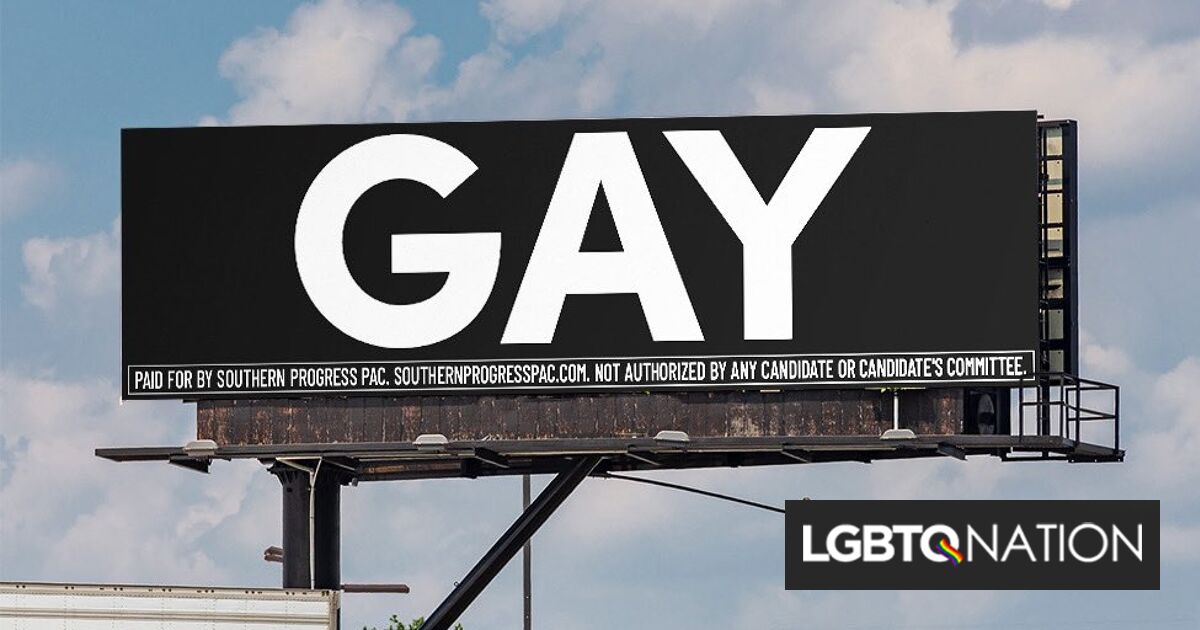 A liberal organization is putting billboards up all over Florida to respond to the "Don't Say Gay" bill with just two short words.
"Say gay."
Related: A Republican put up a hateful anti-trans billboard. So neighbors fought back with love.
H.B. 1557 would ban teachers and schools from including discussions of LGBTQ people in curriculum, something that equality advocates have said will make LGBTQ youth feel ashamed, as if their identity is so bad that it can't be mentioned in polite company.
Chasten Buttigieg pointed out that LGBTQ teens are at a heightened risk of suicide and the bill would cut them off from help from their teachers. Advocates also worry that teachers won't be able to address anti-LGBTQ bullying out of fear of violating the law.
The bill has passed the state legislature and Gov. Ron DeSantis (R) is expected to sign it. Nevertheless, the super PAC Southern Progress is putting up billboards denouncing it in Tallahassee, Orlando, and Jacksonville for a month that say, "SAY GAY" in bold, capital letters. Another billboard design will just say, "GAY."
"Ron DeSantis and Florida Republicans have pissed us all off," tweeted Adam Parkhomenko, a Democratic strategist who's working on the campaign. "So this week we are going to cover the state of Florida in these in response."
Ron DeSantis and Florida Republicans have pissed us all off. So this week we are going to cover the state of Florida in these in response. pic.twitter.com/VjCMP6fVFW

— Adam Parkhomenko (@AdamParkhomenko) March 21, 2022
"Don't be fooled, these types of bills have nothing to do with protecting children and everything to do with discrimination and filling GOP coffers in an election year," Southern Progress co-founder Amanda Crumley told Insider. She added that the "Don't Say Gay" bill and other anti-LGBTQ and anti-transgender bills this year are "an unconscionable, dangerous, and coordinated attack on LGBTQ Americans."
Actual Story on LGBTQ Nation
Author: Alex Bollinger