A lesbian cop that saved lives from the Nashville bombing emotionally shares her story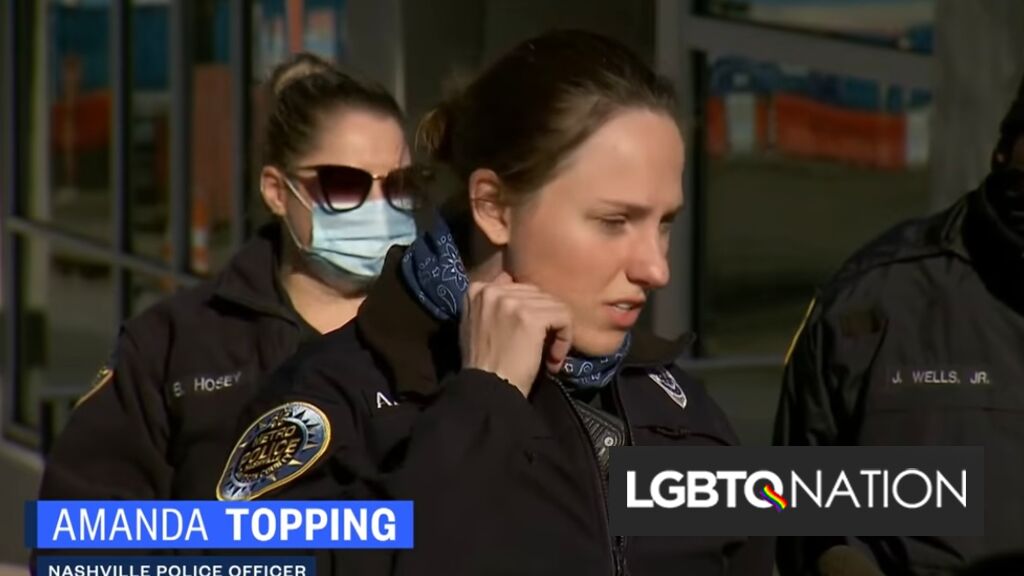 Officer Amanda Topping had just got off the phone with her wife on Christmas Day, telling her she would be home soon — but she had to respond to a call that was "a little strange."
That "strange" call would put her within feet of a suicide bomber that would set off an explosion in his RV in Nashville, Tennessee. There were injuries and severe damages to the downtown area, but no other casualties.
Related: The sheriff fired her because she's a lesbian so she ran against him. She'll be the new sheriff now.

The officers are being honored across the country and hailed as heroes, while Officer Topping's actions may have directly saved lives.
Early on Christmas morning, an RV parked on Second Avenue in the downtown portion of the Tennessee capital city. At 5:30, sounds of gunshots were reported, leading to the call that spurred officers to respond. Initially two officers arrived.
Topping was one of the additional officers that responded to radio calls for assistance. "We were listening, it was an odd call," Topping said at a press conference two days later, recounting the events. "My wife had just called because it was toward the end of our shift, so she was seeing what time I was coming home. Well, I told her we were about to head to this call, it's a little strange."
Topping, answered the call as she was nearing the end of her shift along with Metropolitan Nashville Police Department (MNPD) Officers Michael Sipos, James Wells, Jr. and Sergeant Timothy Miller. They joined Officers James Luellen and Brenna Hosey, who were already at the scene.
The officers found people fleeing the area as the RV began blasting out ominous directions. "If you can hear this message, evacuate now," the computerized message rang.
Then, it eventually shared another message: there was a bomb on the vehicle, about to detonate.
Wells was near her patrol car. At first, it was parked right next to the RV. Luckily, they ended up moving their car away. "We moved because that seemed ideal," she remembered.
While waiting for the Bomb Squad to respond, Topping ran around to ensure people were getting away to a safe distance. "That's just stuff that I'll never forget. The sound of the announcement saying the primary objective is to evacuate, evacuate now. The female voice, just odd," Topping said.
"It was a weird feeling not being able to be with everyone else, but I knew I needed to stay where I was at. Because you want to be with your detail, especially when you have a feeling that something's not right."
Soon, the RV began playing "Downtown" by Petula Clark. Then, Topping began walking towards the RV.
She explained, saying "I wanted to talk to them, I wanted to know, do we need to go into more buildings, what do we need to do? I was just getting really antsy."
"I had just talked to my wife again," she said. "Just told her that things were just, really strange."
Topping continued walking toward the RV, now some of the only people on the block it was parked on. Officer Wells was closer to the vehicle, walking toward Topping in the opposite direction. Video footage showed the two as they approached one another, approximately at 6:30 AM.
That's right when the RV exploded.
Wells would explain his movement toward Topping as divine intervention. "This is my truth," Wells said during his share of the press conference, "I literally heard God tell me to turn around and go check on Topping, who was by herself down on Broadway."
Topping was shocked at the entire events. She said that after reviewing the video footage, she didn't think that "anyone would ever believe" just "how close [Wells] was."
"And I was probably about ten steps away from him," she added. "And we're just walking towards each other and I just saw the biggest flames I've ever seen. The biggest explosion. I saw him stumble, and I felt it, I felt the heat wave."
"I couldn't see him for a second. I just lost it, and I just took off in a sprint towards him… and, like he said, I've never grabbed somebody so hard in my life," Topping said. "I grabbed him, he grabbed me and just ducked into a door way because we didn't know what was coming afterwards."
The explosion would severely damage communications in the city, as it was parked in front of the area's AT&T network hub. Police have suggested this may have been the intention of the bomber, identified by the FBI since as Anthony Quinn Warner.
"It scared the heck out of me," Topping said before calling for assistance on the radio. "Just — '423 there's been an explosion, send multiple medics' — I didn't know what we had."
I was so scared that I had just lost my entire detail, because I didn't know where they were," Topping said.
Luckily, Topping, the officers, and hundreds of others in the area survived the blast. Wells lost his hearing, but only temporarily. Topping would be seen on body cam footage helping others escape nearby buildings that could have collapsed.
Prior to becoming a MNPD officer around March 2019, Topping was a volunteer victim's advocate with the Reno Police Department in Nevada. Prior to that, she worked with animals for St. Jude's Children's Research Hospital, and as a server at various restaurants, according to her Linkedin page.
Five of the six officers emotionally retold the events only on Sunday, December 27, at the press conference. They are already receiving honors, such as their photos being placed on display at the Glen Campbell Museum.
Warner, his motive, and anything about the explosion are being investigated by the FBI.
Actual Story on LGBTQ Nation
Author: Juwan J. Holmes