12 ways Marjorie Taylor Greene has demonized LGBTQ+ people
Author: Daniel Villarreal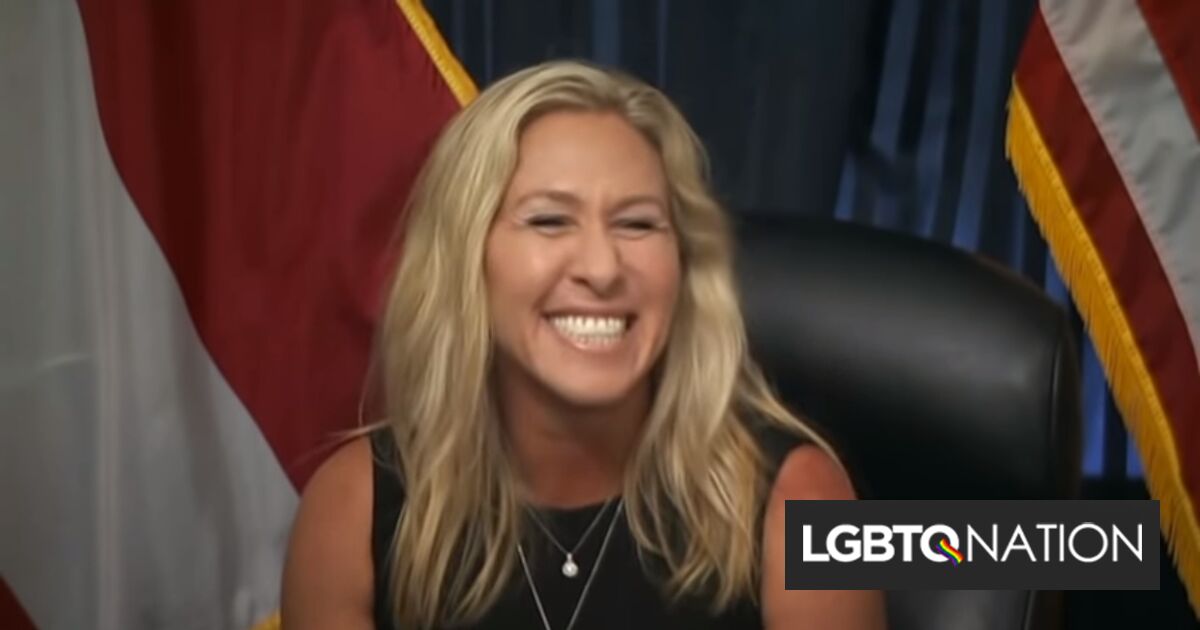 Congressional troll Rep. Marjorie Taylor Greene (R-GA) is such a font of idiocy for bigotry, disinformation, and conspiracy theories demonizing LGBTQ+ people that it's difficult to pick which are the most hateful and offensive.
Nevertheless, here are some of her worst.
She supports overturning same-sex marriage rights
While speaking at an event held by the America First Warehouse in Ronkonkoma, New York, Greene nodded while her interviewer referred to same-sex marriage as "toxic."
When the interviewer asked her about the Supreme Court possibly overturning marriage rights, she said, "We have a better chance there with the balance on the Supreme Court as it stands right now," adding, "Now we know that the Bible tells us marriage is a covenant between a man and a woman. That's what marriage is."
Greene is one of the few Republican legislators who said she specifically opposed the Respect for Marriage Act because she's against gay couples getting married.
She's #1 for spreading anti-LGBTQ hate on Twitter
Greene topped a list of people whose hateful "groomer" and "pedophile" tweets went viral on Twitter. Her tweets alone reached nearly 18 million people on the social media platform.
Just below her on the list were Rep. Lauren Boebert (R-CO), Gov. Ron DeSantis' (R-Fla.) press secretary Christina Pushaw, LibsofTikTok scowl Chaya Raichik, and longtime bigot James Lindsay.
She spread a false story of students using litter boxes
At Donald Trump's "Save America" rally in Pennsylvania, Greene uttered an oft-repeated lie about schools going too far to recognize students' gender and other identities.
Greene repeated a fake news story about a school in Texas where officials purportedly placed a litter box in a restroom to accommodate children identifying as "furries."
"If some student wants to pretend like a cat and use a litter box after school, that's their prerogative, but the school and school resources and the other students and teachers should not have to be put through that because it's a lie," Greene said, adding credence to the false story.
"We have to reject them," she added. "It's not about people's feelings. It's about the truth and rejecting the lies and we have to stand up."
Numerous Republicans have repeated similar litter box stories as a way to oppose trans-inclusive bathroom policies. School officials have said that such stories inspire threats against educators, making their jobs much harder.
She introduced a law banning gender-affirming care for minors
In August, Greene introduced the most transphobic bill of all time.
Her bill would make it a class C felony to provide gender-affirming care for transgender minors, ban federal funds from being used for all such care (regardless of a patient's age), ban medical schools from teaching such care, stop health care plans under the Affordable Care Act from funding gender-affirming care, and ban anyone who provided gender-affirming care from immigrating to the United States.
"It's really genital mutilation, it's puberty blockers that cause chemical castration, teenage girls actually having their breasts chopped off, teenage boys being castrated," Greene told Fox News host Tucker Carlson a week before introducing her bill. "This needs to be illegal."
Gender-affirming care has been shown to significantly reduce lifelong suicide risk among transgender people. The American Academy of Pediatrics, American Medical Association, American Psychological Association, and other major medical/mental health organizations all support gender-affirming care for pubescent youth when appropriate.
She mocked gay men for MPOX and claimed they're giving it to kids
Greene said monkeypox is something to be "laughed at" because it only affects "some people." It predominantly affected men who have sex with men.
"Of course, monkeypox is a threat to some people in our population," Greene said. "But we know what causes it, and that's pretty much, um… it's basically a sexually transmitted disease. So it's not a threat to most of the population."
She was wrong. Monkeypox is spread through direct contact with lesions, prolonged face-to-face contact, touching items like clothes and linens that an infected person used, or via the placenta to a fetus.
"People just have to laugh at it, mock it, and reject it," she said. "It's another scam," she added, referring to COVID-19.
Around the same time, Greene asked why kids were coming down with MPOX, considering that it's sexually transmitted. The dog whistle led her social media followers to insinuate that gay men had been having sex with children.
She said that bigots need guns to fight the "trans agenda on kids"
Greene opposed a bipartisan bill that would allow judges to temporarily take guns away from people who are determined to be dangerous.
In a series of tweets, she said that this is bad because conservatives who threaten transgender people could be disarmed under such laws. She said that the laws "will be a tool to disarm any gun owner that wants to stop abortion, the trans agenda on kids, mass illegal migration, & big government oppression suffocating our families, faith & freedoms."
She said judges will use "the threat against trans people" and "school boards allowing drag queen school shows" to declare the people making those threats "right wing 'domestic terrorists'."
Though she didn't explicitly encourage people to shoot those they don't like, many web commenters questioned why someone would need guns to fight "the trans agenda."
She falsely said the Uvalde elementary school shooter was into "cross-dressing" – and that it proved he was mentally ill
After a shooter killed 19 children and two adults at the Robb Elementary School in Uvalde, Texas, Greene said the shooter was into cross-dressing, implying that the killer was queer or transgender, even though he was cisgender.
"He clearly had a lot of mental issues going on, as was shown with him wearing eyeliner, cross-dressing, a lot of his language, being a loner," she said during a Facebook broadcast.
Right-wingers have long tried to claim that shootings are due to mental illness rather than the widespread availability of assault weapons.
She wanted the FBI to investigate parents of trans children for "child sex abuse"
Always eager to spread the idea that LGBTQ+ allies are child molesters, Greene shared a screenshot of a "sex positive" parent asking online about giving her 15-year-old trans child anal beads.
While the screenshots came from a Facebook group called "Parents of Transgender Children," right-wingers sometimes write such posts to inspire hatred against trans people and supportive parents. Right-wingers often accuse LGBTQ+ allies and trans-supportive parents of "sexualizing" children and pressuring them to take on a queer identity.
Greene reposted the screenshot and said she wanted the FBI to investigate. A few months earlier, she said she wanted the FBI to be defunded for entering Trump's Mar-A-Lago home to retrieve classified documents.
She said childless and LGBTQ+ couples can't understand children and are a "danger" to them
While talking to rightwing troll Alex Stein, Greene said that children are in "great danger" because "traditional family values are being destroyed."
"The idea that mom and dad together – not fake mom and fake dad – but the biological mom and biological dad, can raise their children together and do what's right for their children, raising them to be confident in who they are, their identity, their identity is, you know, they're a child made by God…" she said on her Facebook show MTG: Live.
Her comments echoed others she made, claiming that White House Press Secretary Karine Jean-Pierre can't understand the impact of the national baby formula shortage because she's "married to a woman" and "doesn't have children" — even though Jean-Pierre has a daughter.
Numerous social media commenters noted that Greene implied that adoptive parents and also childless couples and adults (whether straight or gay) are a threat to children and can't understand them – a claim which is so absurd that it warrants no further comment.
She gave a miserable talk to trans kids
Via Twitter, Greene told trans kids, "If you're under 18 and people are telling you to cut off your breast or have a surgery that turns your penis inside out to make a 'vagina' you're a victim of child abuse…. Get away from those people and find safe people who tell you that you're already perfect. Grow up first."
Foremost, gender-affirming genital surgeries aren't not performed on minors and top surgery is only performed on minors in rare circumstances. Second, most trans minors take puberty blockers so they may "grow up" and consider their gender identity more fully without undergoing the bodily changes associated with maturation. Third, numerous studies have shown that gender-affirming medical care prevents trans youth suicides, increasing a trans kid's odds of growing up in the first place.
Conservatives like Greene have been trying to reframe their desire for transgender kids to change into cisgender kids as "they're already perfect," even though Greene and others like her are asking them to change their gender identities.
Greene criticized President Joe Biden for condemning an LGBTQ+ bar shooting
After the mass shooting at Club Q that left five people dead and 18 wounded, Biden released a statement saying that "The LGBTQI+ community has been subjected to horrific hate violence in recent years." He also called for an assault weapons ban.
Afterward, Greene wrote on Twitter, "Tragically, 300 Americans die of fentanyl poisoning everyday in America and Biden says and does nothing."
"Tragically, 5 people were killed in a shooting in Colorado and Biden immediately demands a ban on assault weapons," she continued. "The solutions are this: 1. Secure the border and stop the drugs.; 2. Defend our right to keep and bear arms so that people can defend themselves from killers who could care less about laws."
Greene faced criticism for minimizing the deaths of the five people in the shooting and for suggesting that getting more people guns would have been a solution. In reality, the suspected Club Q shooter was subdued without anyone firing a weapon to stop him.
She accused trans women of destroying womanhood
Greene lashed out at "Madison Avenue ad agencies" after she found out that trans TikTok influencer Dylan Mulvaney possibly landed an ad deal with Tampax.
"Madison Avenue ad agencies and woke corporations are destroying the concept of womanhood," Greene wrote. "They need to remember who their customers are. Real biological women. And we refuse to be replaced by men."
In addition to misgendering Mulvaney, Greene was essentially parroting right-wing talking points about trans women being a threat to cis women.
Previously, Mulvaney faced transphobic abuse for her work with the beauty company ULTA. She said she had been called "a freak," "a child predator," and "an absurdity" after her work with the company went public.
Editor's note: This article mentions suicide. If you need to talk to someone now, call the Trans Lifeline at 1-877-565-8860. It's staffed by trans people, for trans people. The Trevor Project provides a safe, judgement-free place to talk for LGBTQ youth at 1-866-488-7386. You can also call the National Suicide Prevention Lifeline at 1-800-273-8255.
Actual Story on LGBTQ Nation
Author: Daniel Villarreal